Pepperdine First Lady Joline Gash ('92) to Join President Jim Gash (JD '93) for Coffee with Jim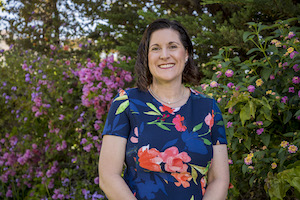 Conversation with Joline Gash, featuring a discussion between Pepperdine president Jim Gash (JD '93) and first lady Joline Gash ('92). The virtual chat will take place via Zoom on Friday, March 26, at noon PT.
In her role as first lady, Joline is a devoted advocate for students' mental, physical, and spiritual well-being during their pursuit of higher education and works to effectively support the student community in partnership with a number of University departments, such as the Boone Center for the Family, Campus Ministry, and Student Affairs. She has particularly focused her attention on supporting the student leaders of the Student Wellness Advisory Board as they help students develop healthy minds, healthy bodies, and healthy communities.
Joline has served Pepperdine in capacities far and wide since 1999. For example, in 2012, the Gash family moved to Uganda for six months to participate in the Global Justice Program at the Caruso School of Law, where she and the couple's three children—Jessica ('18); Joshua ('20); and Jennifer, a Seaver College junior—served local communities through medical mission projects. She further employed her biology degree by teaching courses in biology and marine biology in the natural science department at Oaks Christian High School in Westlake Village, California, until commencing her role as Pepperdine University's first lady.
For additional information about Coffee with Jim: A Conversation with Joline Gash, and to register to attend, visit the event's registration page.