Pepperdine Guitarists to Showcase Their Talent
The Pepperdine University Guitar Department will present its monthly free concert featuring current students studying with world-renowned virtuoso and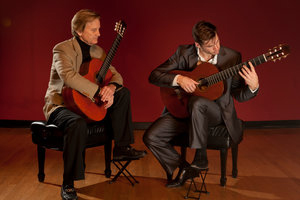 Distinguished Professor of Music Christopher Parkening. The performance takes place at 5 p.m. on Tuesday, April 14, in the Payson Library Surfboard Room, Malibu campus.
The concert will include solo pieces, ensemble pieces with multiple combinations of guitars (duo,trio,quartet) and various other ensembles, including guitar/voice, guitar/string quartet, guitar/flute. Works by Piazolla, Rodrigo, Albeniz, Barrios, York and Scarlatti will be highlighted.
Music students who will perform are junior Brig Urias; and sophomores Sergio Gallardo, Joseph Peliska, and Cody Noriega.
For more information, please visit the Pepperdine Libraries website.