Pepperdine to Honor 500th Anniversary of the Reformation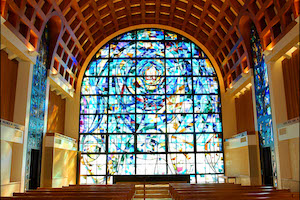 October 31, 1517, marks the start of the Protestant Reformation, when Martin Luther nailed his 95 Theses to the door of Wittenberg Castle Church in Germany and launched the 150-year political and religious movement across Europe. The Pepperdine University Center for Faith and Learning will commemorate the 500th anniversary of this significant milestone in Christian history with a special service at Stauffer Chapel on the Malibu campus on Tuesday, October 31, at 12:30 PM.
The service will focus on remembrance and Christian unity, and will include a reading from Martin Luther's first sermon, music from the Concert Choir and the Pepperdine Chamber Choir, a congregational hymn, and a benediction.
"As a Christian university, we celebrate the rich history and traditions of the Christian faith," said Stephanie Cupp, program coordinator at the Center for Faith and Learning. "This service will commemorate both the rich traditions of the Protestant church and the more recent work being done towards unity in the Christian church worldwide."
To learn more about spiritual life at Pepperdine, visit the Center for Faith and Learning website.