Pepperdine Honors Juneteenth Holiday with Community Reflections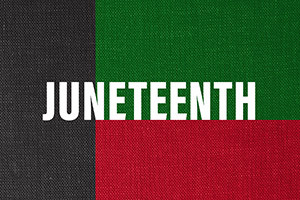 In commemoration of Juneteenth, a holiday observed annually on June 19 that celebrates the end of slavery in the United States, Pepperdine University introduced "Reflecting on Juneteenth," a video series designed to honor the event's history, meaning, and impact on the next generation of Waves. Originated in Galveston, Texas, on June 19, 1865, nearly two-and-a-half years following the Emancipation Proclamation issued by Abraham Lincoln on January 1, 1863, the holiday is also referred to as Emancipation Day, Freedom Day, Jubilee Day, and Liberation Day. With videos scheduled for release through official Pepperdine social media accounts on Facebook, Instagram, LinkedIn, and Twitter during the month of June, "Reflecting on Juneteenth" highlights the University's commitment to fostering a community of belonging.
To capture a vast array of perspectives throughout the series, J. Goosby Smith, vice president for community belonging and chief diversity officer at Pepperdine, invited University faculty, staff, and students to explore the significance of the holiday through the lens of their scholarly disciplines and personal experiences.
"As institutions of higher education, our mission is to elicit, create, and disseminate knowledge," explains Goosby Smith about introducing the Pepperdine community to the history of the holiday. "Juneteenth is a visceral reminder that the mere existence of knowledge, as that of emancipation, is ineffective if not transmitted in a way that the recipient can comprehend."
Featured videos will showcase stories, experiences, and discussions from Anthony Barr, a student at the School of Public Policy; Christine Chambers Goodman, professor of law at the Caruso School of Law; La Shonda Coleman, associate vice president and university Title IX coordinator; Howard Jean-Denis, incoming assistant professor of strategic management; Chalak Richards (JD '12), assistant dean of student life, diversity, and belonging and director of the Parris Institute for Professional Excellence at the Caruso School of Law; and Eric Wilson, preaching minister of the University Church of Christ.
"It is important for educational institutions to ponder Juneteenth because of its implications for the educational process, in regard to curriculum, pedagogy, study aids, learning community climate, and manner of information delivery," Smith continues. "If we don't center our students in the learning process, we hinder their capacity to pursue excellence to achieve freedom."
In aiming to demonstrate the impactful and inspirational perspectives of Pepperdine's faculty, staff, and students who contribute excellence to all five schools, Smith hopes that viewers will appreciate the differences and similarities that exist among the speakers' respective disciplinary treatments of, and reflections upon, Juneteenth.
"We are living in a troubled world that has a vested interest in us becoming ever more divided," she says. "In order to enhance the sense of belonging, we need to identify and embrace our common purpose to listen to our creator, to love each other no matter what, and to what God has called us to be: a diverse community of believers who praise God and demonstrate our faith through our treatment of ourselves, our fellow humans, and all of God's creation."