Pepperdine to Host 2018 Future of Healthcare Symposium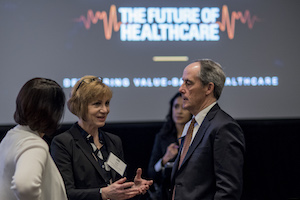 Pepperdine Graziadio Business School will present The Future of Healthcare Symposium at The Ritz-Carlton, Marina del Rey, on Thursday, March 22, from 8 AM to 4 PM.
The 2018 theme, "Healthcare Leaders Directing Change," will explore the key drivers innovating and altering the healthcare industry in the United States. Healthcare leaders will share their unique experiences and offer key, usable insights into the transformation of healthcare.
Vivek Murthy, 19th surgeon general of the United States, and Peter Chiarelli, retired United States Army general and former chief executive officer of ONE MIND, will serve as this year's keynote speakers.
Murthy served as the surgeon general of the United States from December 2014 to April 2017. As "The Nation's Doctor," he brought both passion and innovation to the challenges of leading America's national healthcare initiatives. Throughout his career, Murthy has led the way in medical education, social action, and healthcare dialogue.
Chiarelli was appointed the chief executive officer of ONE MIND in 2012. As the 32nd vice chief of staff in the Army, Chiarelli was responsible for the day-to-day operations of the Army and its 1.1 million active and reserve soldiers.
Organized annually by the Pepperdine Graziadio Board, The Future of Healthcare Symposium brings together influential thinkers and experienced practitioners to discuss the technological, ethical, or controversial innovations and challenges facing today's ever-evolving healthcare sector.
General admission tickets are $150. For additional information about this annual event, and to register to attend, visit the Graziadio Business School page on the Eventbrite website.