Pepperdine to Host Women in Policy and Politics Symposium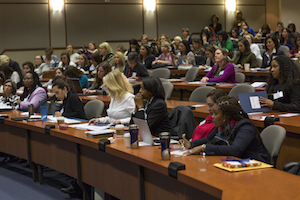 The Pepperdine Center for Women in Leadership, in partnership with the Pepperdine School of Public Policy, will host the Women in Policy and Politics Symposium at Wilburn Auditorium in Malibu on Monday, October 23, from 8:30 AM to 2:30 PM.
As women have advanced as leaders within the public sphere, progress made in the realm of politics and policy is among the most prominent. Internationally, as well as within the United States, women in positions of political leadership have paved the way for even greater strides for future generations.
Guest speakers will highlight the challenges and opportunities for women in policy and political leadership by exploring the subject throughout three distinct themes:
Women in Nonprofit Policy
Moderator:
Regan Harwell Schaffer (MA '93, EdD '02)
Director, Nonprofit Leadership Collaborative and
Professor of Organizational Behavior and Management
Seaver College, Pepperdine University
Panelists:
Sally Pipes
President and CEO
Pacific Research Institute
Montse Alvarado
Executive Director
Becket Fund
Kathy Schaffer
Coach, Author, Speaker
Women in Government
Moderator:
Ashley Trim (MPP '09)
Executive Director, Davenport Institute for Public Engagement and Civic Leadership
School of Public Policy, Pepperdine University
Panelists:
Sabrina Adu-Hamdeh
Foreign Affairs Officer
US Department of State
Lindsay Young (MPP '10)
White House Web Consultant
18F
Ingrid Hardy
Director, Cultural and Community Services
City of Oxnard
Sahar Shirazi
Senior Planning Advisor
Governor's Office of Planning and Research
Women in Elected Office
Moderator:
Pete Peterson (MPP '07)
Dean
School of Public Policy, Pepperdine University
Panelists:
Kathryn Barger
Los Angeles County Supervisor
Alicia Weintraub (MPP '02)
Councilwoman
City of Calabasas
Shirley Weber
Member
California State Assembly
Tickets are free for Pepperdine students and $25 for faculty, staff, and community members.
For additional information, and to register to attend, visit the Women in Policy and Politics Symposium page on the Eventbrite website.