Pepperdine Hosts Inaugural Take Back the Night Event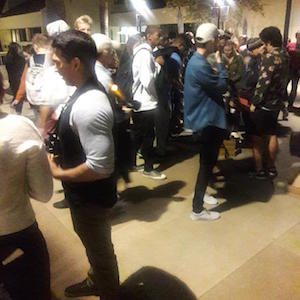 On November 13 nearly 100 members of the Pepperdine community joined in solidarity at the Malibu campus for the University's first-ever Take Back the Night event—an annual gathering hosted nationwide and around the world dedicated to ending domestic, relationship, and sexual violence. The event was cohosted by Pepperdine University's Student Government Association (SGA), Title IX coordinators, and the Health and Wellness office.
"This was a night of recognizing the voices in our communities that have experienced gender-based violence, working together to support those impacted, and also working to prevent it from happening," explained La Shonda Coleman, Pepperdine University's Title IX coordinator for students. "It was a beautiful representation of the community coming together."
The on-campus event featured a resource fair, where representatives from a variety of campus departments—along with student-operated organizations, such as Crossroads, the Psychology Club, Waves Leadership Council, and the SGA—shared their support resources with attendees. Each organization offered students information about local and global inclusion and diversity, as well as gender-based violence and sexual violence, and provided statistics that explored how these issues impact individuals. Also on display were laptops featuring TED Talks related to the event's mission, such as one given by social justice activist Kimberlé Crenshaw on how individuals that identify with both a marginalized race and gender can be doubly victimized.
Utilizing components of the Relationship IQ program, the Boone Center for the Family equipped students with the tools to cultivate healthy relationships in an effort to prevent domestic violence. The Office of Student Accessibility provided opportunities to participate in creative projects known to help support nervous system and brain health. Other Pepperdine offices present at the event included Intercultural Affairs, the Office of International Student Services, and the Pepperdine Volunteer Center.
Crossroads, a campus organization that strives to promote a safe space for LGBTQ+ students, created a brochure specifically for Take Back the Night that shared how issues of gender-based violence impact LGBTQ+ individuals as well as the LGBTQ+ community.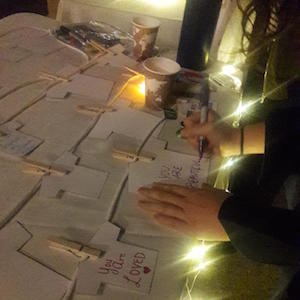 The Waves Leadership Council, comprising student-athletes, displayed on their table cutouts of paper t-shirts where attendees could write messages to survivors of domestic, relationship, and sexual violence. The event also featured a clothesline display of shirts designed by survivors, which provided them with the opportunity to tell their stories in a unique way.
The night also included performances by Pepperdine's resident dance company Dance in Flight and two monologues from the internationally-acclaimed, award-winning student play, The Interference. One of the cast members of The Interference read aloud a testimony depicting the experiences of a student who survived sexual violence on campus prior to attending Pepperdine.
Following the survivor's testimony, Rebecca Campos, intercultural learning and engagement coordinator at Pepperdine's Intercultural Affairs office, spoke on behalf of women of color who are oftentimes marginalized or left out of these conversations. Campos discussed some of the barriers that may prevent this particular population from accessing support or resources, partly in fear that sharing their stories may perpetuate violence not only by the person who harmed them, but by the system that is designed to assist them.
The evening continued with a solidarity walk, led by select SGA members, from the amphitheater to the Gregg G. Juarez Palm Courtyard. After the march, University chaplain Sara Barton closed the event with a prayer.
"I prayed to God, the light of the world, who leads the way in taking back all humanity's nights of brokenness, pain, suffering, and violence," Barton shared of her role at the event. "I was inspired by how the organizers of the event created a holistic program with prayer, testimony, performance, information, and art. Sharing in the creation of art together is one way we can heal communities."