Pepperdine Hosts Seventh Annual Christmas Tree Lighting Ceremony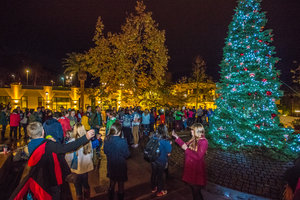 The Pepperdine community will gather for the seventh annual Christmas Tree Lighting ceremony at Mullin Town Square on the Malibu campus Thursday, December 3.
Festivities will begin at 4:30 PM with a Christmas dinner at Waves Café followed by a performance of holiday songs by the celebration chapel band and a communal time of worship. Pepperdine faculty and staff members will deliver readings from the book Meditations of the Heart by pastor, poet, and civil rights activist Howard Thurman, and attendees will have the opportunity to participate in singing Christmas songs. The event will culminate with the traditional Christmas tree lighting.
For more information, contact Doug Hurley