Pepperdine Jazz Ensemble to be Featured in Free Concert
The Pepperdine Jazz Ensemble will present a free concert at 7:30 p.m. on Monday, April 13, in the Lindhurst Theatre, Malibu campus.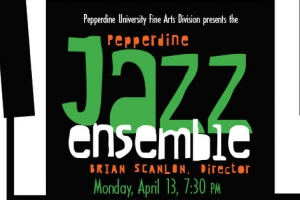 The ensemble will perform a variety of music by such composers as Dizzy Gillespie, Herbie Hancock, John Lewis, Eddie Harris, Gordon Goodwin, and Phil Woods, among others. Jazz Ensemble drummer, Alex Keating, will perform a vocal duet with his brother and guest artist, Josh, on the song, "Mack the Knife."
Brian Scanlon directs the ensemble and teaches saxophone at Pepperdine. Scanlon has been an active member of the Los Angeles music scene since 1987. As a saxophonist and woodwind doubler he has made his mark in the recording studios, on the concert stage, and in nightclubs.
Scanlon earned his bachelor's and master's degrees in music from the prestigious Eastman School of Music. His career highlights include touring with song and dance man Ben Vereen from 1986 to 1999, and regular appearances on the "Tonight Show" as a member of the NBC Orchestra, from 1988 to 1992. He toured with trumpeter Doc Severinsen, and briefly played lead alto with Buddy Rich.
Scanlon can be heard on several motion picture soundtrack recordings such as Monster's Inc.,A Bug's Life, Moulin Rouge, and Analyze This. He has recorded with Randy Newman and Rosemary Clooney and performed with Tony Bennett, Dizzy Gillespie, B.B. King, and the Los Angeles Philharmonic. Saxophone soloist for singers Natalie Cole and Maureen McGovern are among his current gigs, as well as extensive freelancing in the Los Angeles area.
For more information, visit the Center for the Arts website.