Pepperdine Launches Braille Embossed Business Cards for Faculty and Staff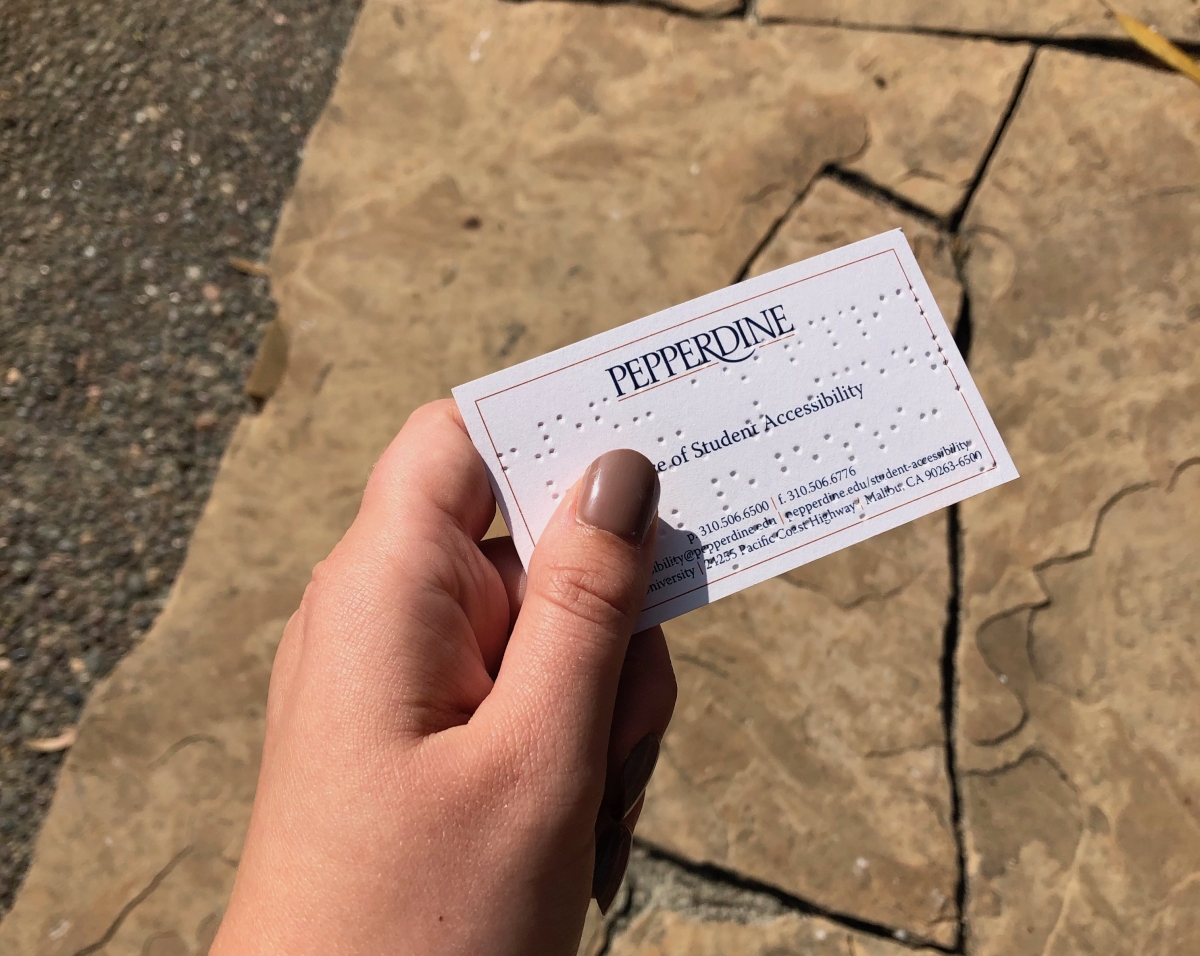 Faculty and staff across Pepperdine partnered in fall 2019 to develop the University's first-ever braille embossed business cards to address a growing need and desire to provide accessible services to all members of the Pepperdine community. The cards, which mark an important step toward increased accessibility at Pepperdine, were delivered to Office of Student Accessibility (OSA) staff in mid-October, marking the culmination of a nearly three-month-long project.
The initiative was spearheaded by Anna Penner, who had recently accepted a position on Pepperdine's faculty as an assistant professor of sociology. Encouraged by her scholarship, which focuses on the sociology of disability, family, inequality, and particularly on the behavioral and educational outcomes throughout the life of children with disabled siblings, Penner explored the different ways her new position could incorporate accessible resources. Aware of accessibility efforts at other institutions, Penner inquired with the Seaver College Social Science Division about introducing braille embossed business cards at Pepperdine.
Sandra Harrison, OSA director, was immediately drawn to the idea that had been on the minds of OSA staff for a long time and worked with Jeff Webb ('18), administrative assistant for the Seaver College Social Science Division at the time, to coordinate efforts to launch the initiative. "When we learned about the interest in braille embossed business cards, our immediate answer was, 'Absolutely. Let's do this!'" she shared.
The project, fueled by collaborations between multiple campus departments, began to take shape as Eric Gero, manager of printing services, spearheaded the research into the possibility of Pepperdine's business card stock being able to accommodate braille embossing and coordinated with third parties to ensure the accuracy of the braille translation on the cards.
"Our intention is for this first group to become the template for future cards," Gero said. "We are hoping this will become a new addition to Printing Services' offerings."
Jennifer Baker, assistant director of the OSA, shared, "We are thankful for every person who creates access in every way. With this new avenue of accessibility, we hope the feeling of belonging at Pepperdine will continue to extend to more people."
For more information about accessibility at Pepperdine, visit the Office of Student Accessibility website.