Pepperdine Law Review to Host 2017 Symposium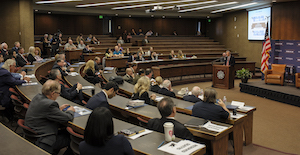 Pepperdine University School of Law will host the annual Pepperdine Law Review (PLR) Symposium at the Malibu campus on Saturday, April 8, from 8:30 AM to 5 PM.
This year's theme, "The Supreme Court, Politics and Reform," will examine whether the political deadlock over the Merrick Garland nomination provides a stark indication that the US Supreme Court has become an unduly political institution and, if so, what internal and external reforms might address this problem.
The symposium will commence with an opening address by Stanford University law professor Michael W. McConnell followed by a question and answer session. The conversation will continue with a videoconference presentation led by the Honorable Richard A. Posner.
Additional presentations and question and answer sessions will be given by Harvard Law School professor Mark Tushnet, University of California, Irvine School of Law dean and professor Erwin Chemerinsky, and Yale University law professor Akhil Reed Amar.
The day's events will continue with the following panel break-out sessions at 3 PM:
Supreme Court Politicization - Historical Development
Supreme Court Politicization - Is Court Unduly Political?
Supreme Court Reform - Restructuring the Court's Decision-Making Authority
Supreme Court Reform - Modifying the Court's Decision-Making Methods
Supreme Court Reform - Restructuring the Court and/or Appointments Process
Founded in 1972, PLR is a scholarly law journal published by second- and third-year School of Law students. In its 45 years of existence, PLR has been a resource for practitioners, law professors, and judges, and has been cited several times by the Supreme Court.
This symposium is approved for Minimum Continuing Legal Education (MCLE) credit by the State Bar of California for 6.25 credit hours.
Ticket prices range between $10 and $50, and are required to attend. For additional information about the symposium, and to purchase tickets, visit the School of Law page on the Eventbrite website.