Pepperdine Libraries Acquires Personal Archive of Judge John J. Merrick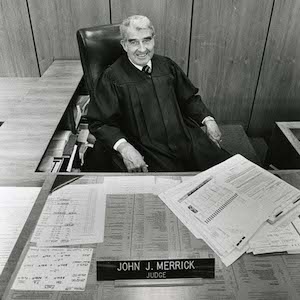 In June 2021 Pepperdine Libraries acquired the personal archive of Judge John J. Merrick, the most recent addition to the Boone Special Collections and University Archives at Payson Library, Pepperdine's flagship library located at the Malibu campus. The featured pieces—which include a patch from the tank destroyer unit Merrick served in during WWII, handwritten letters, and photographs from his personal and professional life—were donated by Merrick's son, Brian Merrick ('91), who wished to make the items available for researchers interested in his father's life and to preserve his legacy for generations to come.
"The collection contains items from every Malibu organization Judge Merrick supported," said Mark Roosa, dean of Pepperdine Libraries. "Viewed together, they clearly show his profound love for the city."
Throughout his career, Merrick taught law classes at Pepperdine's Malibu campus, founded a scholarship to support Pepperdine law students interested in public service, and helped establish Crest Associates, a community support group for the University.
"Judge John J. Merrick was a founding father and local historian of Malibu, and his collection spans 80 years from 1946 to present day," said Brian Merrick. "Pepperdine and the Boone Special Collections and University Archives were found to be the best location for preservation of these valuable documents and historical pieces. I recommend that all old-time families from Malibu look into donating their items to the library to help preserve the history of Malibu."
The late judge spent much of his career in public service. After serving during WWII, Merrick attended law school and later operated a law practice. In 1964 he ran for an open judicial seat in Malibu/Calabasas, a position he held until his retirement in 1986. Devoted to preserving Malibu history, Merrick served as president of the Malibu Historical Society and led the effort to preserve the historic 19th-century Adamson House.
For additional information about the new archive, visit the Pepperdine Libraries website.