Pepperdine Libraries Celebrates Native American Heritage Month with Extensive Book Display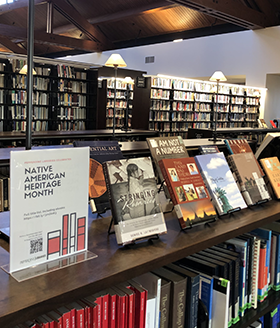 To commemorate Native American Heritage Month throughout November, the Pepperdine Libraries curated a topical online and in-person book display to celebrate rich cultures and histories and to acknowledge the important contributions of Native people.
Throughout the years Pepperdine Libraries has curated topical and thematic book displays in Payson Library for students, faculty, staff, and guests to peruse relevant topics and find helpful resources. Librarians paired in-person displays with virtual bookshelves, allowing community members to access the resources no matter their location. This display features more than 100 titles and spans genres, including biographies and memoirs, historical studies, and poetry.
Most of the collection can be viewed in ebook format or in print format in Payson Library. To learn more about the display or to peruse the virtual bookshelf, visit the Pepperdine Libraries website.