Pepperdine Libraries to Present Johnny Cash Photo Exhibit and Symposium on Prison Reform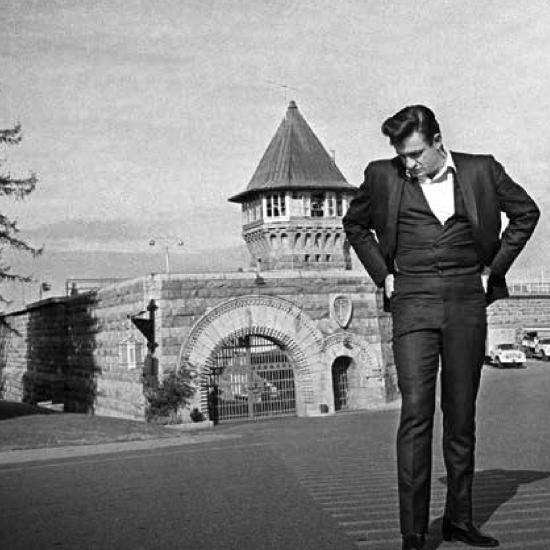 From January 6 through April 9, 2023, the Pepperdine Libraries will present Johnny Cash at Folsom and San Quentin, an exhibition of 23 photographs taken by Jim Marshall at Cash's legendary prison concerts in 1968 and 1969. The photographs will be on display at the Payson Library Exhibit Gallery on the Malibu campus. Over the course of his 50-year career, Marshall (1936–2010), a GRAMMY Award–winning music photographer, captured images of iconic musicians such as Bob Dylan, Muddy Waters, and Willie Nelson, as well as Cash. This exhibition features a selection of photographs from the 2018–2019 exhibition, The Prison Concerts: Folsom and San Quentin (Jim Marshall's Photographs of Johnny Cash), curated by the GRAMMY Museum®.
In 2015, Pepperdine Libraries hosted another Cash photo exhibition, Johnny Cash in Black and White as Photographed by Leigh Wiener. Those photographs are available in the Pepperdine Libraries Digital Collections.
As part of the photo exhibition, the University's Center for Faith and the Common Good and the Pepperdine Libraries will jointly host Faith, Reconciliation, and Flourishing: A Symposium on Prison Reform on Thursday, January 12, from 4 PM to 5:30 PM in the Surfboard Room at Payson Library. Speakers will include Byron Johnson, executive director of the Center for Faith and the Common Good and Distinguished Visiting Research Professor of Religious Studies and the Common Good at Pepperdine's School of Public Policy; Andrew Johnson, visiting scholar at the Center for Faith and the Common Good; Courtney Hook, visiting assistant professor of communication at Seaver College; Chaplain Ronald Olivier, director of chaplaincy at the Mississippi Department of Corrections; and Marshall Terrill, co-author (with Greg Laurie) of Johnny Cash: The Redemption of an American Icon.
A reception in the gallery will follow the symposium and admission is free.