Pepperdine Libraries to Host Panel Discussion with Artist Phung Huynh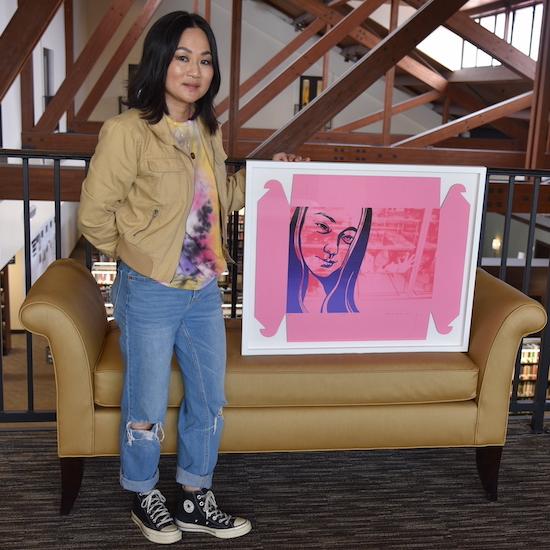 On Thursday, September 7, at 3 PM, Pepperdine Libraries will present a panel conversation with artist Phung Huynh, whose exhibition, Donut (W)hole, is on display in the Payson Library Exhibit Gallery through September 10, 2023. The event is free and will be held in the Surfboard Room at the Payson Library on the Malibu campus.
Huynh's exhibition features serigraphs of and on pink doughnut boxes, which are iconic in Southern California's Cambodian American (Khmerican) community. Approximately 80 percent of doughnut shops in the Southland are owned and operated by Cambodian refugees and their children, and the signature pink doughnut boxes are an innovation credited to Ted Ngoy, who fled the Khmer Rouge in 1975 and opened Christy's Donut Shop in La Habra in 1979.
Inspired by her experience as a refugee of Cambodian and Chinese descent from Vietnam, Huynh's artwork explores the doughnut shop as a cultural space where refugees and immigrants reshape their lives through the processes of assimilating, negotiating identities, and becoming American. "The Donut (W)hole exhibition holds a very special place in my heart because I have the opportunity to highlight people from my Southeast Asian refugee community," says Huynh. "I have the honor of sharing stories about surviving war and genocide, resilience, othering and cultural assimilation, and the second and third generation of Cambodians and Cambodian Americans in the United States who play a unique role in the American narrative while navigating intergenerational trauma and living in the diaspora."
Thursday's panel discussion will be moderated by Tuan Hoang, the Blanche E. Seaver Professor of Humanities and Teacher Education and associate professor of Great Books. In addition to Huynh, speakers will include Dorothy Chow, CEO of B&H Bakery Distributors and host of the Death and Cambodia, Life in America podcast; Marvella Muro, director of artistic programs and education at Self Help Graphics and former community engagement manager at the Los Angeles County Museum of Art; Jaspal S. Sandhu, founder of the Pink Box Stories blog; Dewey Tafoya, master printer at Self Help Graphics; and Mayly Tao, owner of Donut Princess Los Angeles and Ted Ngoy's great niece.
"Phung's vibrant prints convey the idea of the doughnut shop as a symbol of the American dream, and the idea that this dream is possible for anyone, including refugees and immigrants overcoming tremendous obstacles," says Mark S. Roosa, Pepperdine's dean of libraries. "I look forward to hearing about the American experience directly from some of the individuals featured in the artworks."
A reception—including doughnuts—will follow the discussion. Registration is requested.