Pepperdine Mourns the Loss of GSEP Professor Emeritus of Education Jack McManus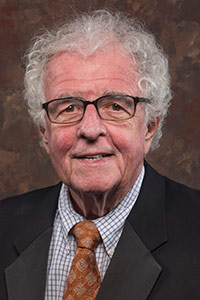 John "Jack" McManus, Professor Emeritus of Education at the Pepperdine Graduate School of Education and Psychology, passed away on August 2, 2019. He was 80.
"As a person and a professional, Jack was one of the most genuine, creative, and caring individuals I have ever met. His word was his bond, and at the end of every conversation, I always felt refreshed, enlightened, and full of joy," said Helen Easterling Williams, dean of the Graduate School of Education and Psychology. "GSEP, Pepperdine, and the world has lost a true gentleman, a scholar, and an unapologetically Christian giant. Jack will be sorely missed."
Born on February 24, 1939, McManus worked in various roles across Pepperdine, from serving as the director of campus computing in the 1970s to leading the University's residential MBA program in the 1980s to serving on myriad Graduate School of Education and Psychology and University-wide committees and dissertation committees. He also held the unique distinction of having had an office in all of Pepperdine's five schools and teaching in three, particularly courses in technology management, research, and statistics.
McManus was a cofounder and director of the EdD program in educational technology at the Graduate School of Education and Psychology and served as its program director for four years. A coauthor of several texts on computer applications, he also served as associate dean of education and interim dean at the Graduate School of Education and Psychology. In December 2018 McManus was granted emeritus status by the Pepperdine University Board of Regents.
"Both as an administrator and in his favorite role as a teacher across three of Pepperdine's graduate programs, no one was better in inspiring students to go much further than what they dreamed possible," said James R. Wilburn, Dean Emeritus of the Pepperdine School of Public Policy and a longtime friend of McManus. "It is not a cliche to say that he was Pepperdine at its best."
A strong believer in the power of education, McManus was an expert in American history and public policy and a strong advocate for civil rights, having testified on the topic before Congress. Helping develop the University into an internationally renowned academic institution, McManus traveled with Pepperdine students to France, England, Germany, Mexico, and Washington, DC. An avid supporter of Pepperdine's athletic teams, McManus also enjoyed season tickets to the Waves men's basketball games and loved watching baseball games overlooking the ocean with players on the verge of joining the major leagues.
McManus held a doctorate from the University of Connecticut, a master's degree from Clark University, and a bachelor's degree from Holy Cross College.
He is survived by his wife, Pamela; his beloved nieces and nephews, London, Charlotte, Florence, and Cassius; and a host of friends and loved ones.
Details of a memorial service to honor and celebrate his life are being arranged and will be shared at a later date.