Pepperdine Mourns the Loss of Professor Emeritus Oliver Jennings Davis, Jr. (MA '76)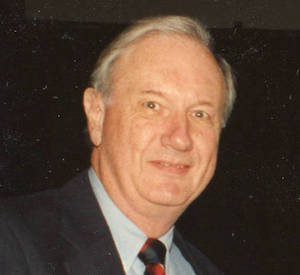 Oliver Jennings Davis, Jr. (MA '76), Professor Emeritus at the Pepperdine University Graduate School of Education and Psychology, passed away on November 30, 2016. He was 89.
Born on July 30, 1927, in Nashville, Tennessee, Davis was a lifelong member of Churches of Christ. After being honorably discharged from the United States Army in November 1946, he enrolled at David Lipscomb College, where he was an outstanding athlete in both basketball and tennis. In 1991 he was inducted into the Lipscomb Hall of Fame for his stellar sports records.
Upon graduation in 1950, Davis attended Ohio State University where he earned his MEd and then returned home to marry Vera Howard of Sparta, Tennessee, on July 7, 1951. In 1953 the couple moved to New York City where he pursued and earned his EdD from Columbia University, Teachers College.
After several more years of teaching and preaching in Nashville, and after the birth of daughters, Carol and Elizabeth, Davis moved the family to Los Angeles in 1963 to become the director of student personnel services (later known as dean of students) at George Pepperdine College, where he was a tireless and outspoken advocate for racial and social justice.
Davis filled many positions at Pepperdine, including teaching religious ethics at the former School of Professional Studies, and teaching liberal studies at the School of Business and Management (now Graziadio School of Business and Management), culminating in full tenure at the Graduate School of Education and Psychology. During this time, Davis and his wife welcomed their third daughter, Shirley.
In 2011 Pepperdine University established in his honor the Bowers, Davis, and Todd Award for Leadership in Diversity and Inclusive Excellence. The award recognizes students who demonstrate an active commitment to advancing institutional diversity and inclusive excellence at Seaver College.
A devoted Christian, Davis spent his entire life serving Christ by helping others—as a minister and elder, dean of students, professor, counselor, and mentor to so many. He lived with an open and generous heart, truly demonstrating the teachings of Christ, which will be his enduring legacy.
Davis is survived by his wife, Vera; daughters, Carol, Elizabeth, and Shirley; and grandchildren, Cameron, Geoffrey, Olivia, and Harper.
A memorial service will be held at the Conejo Valley Church of Christ at 2 PM on Saturday, December 3, 2016.
To commemorate Jennings' passion for racial justice and his love for Pepperdine students, the family requests that contributions be made to the Pepperdine University Black Alumni Council Scholarship Fund. Donations can be made online at give.pepperdine.edu/bac/scholarship or by sending a check to The Pepperdine Fund (24255 PCH, Malibu, CA 90263-4579) with "BAC Scholarship" in the memo.