Pepperdine Mourns the Loss of Weisman Museum Director Michael Zakian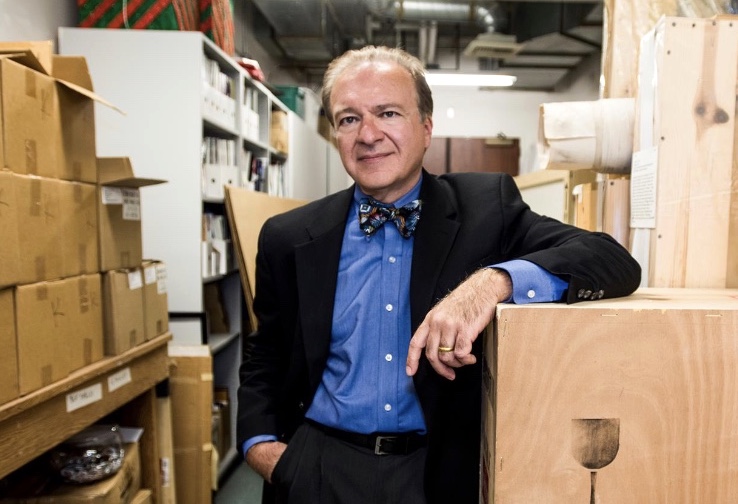 Michael R. Zakian, longtime director of the Frederick R. Weisman Museum of Art at Pepperdine University and adjunct professor of art history at Seaver College, passed away on January 14, 2020. He was 62.
"For more than 25 years, Pepperdine was fortunate to have Michael Zakian lead the Weisman Museum of Art," says Rebecca Carson, managing director of the Lisa Smith Wengler Center for the Arts at Pepperdine. "His writing and storytelling helped make the work of Rodin, Chihuly, Andy Warhol, Agnes Pelton, and countless other artists come alive for patrons of all ages and backgrounds. Michael's work brought the thousands of people who visit the Weisman each year inspiration, joy, and wonder. He will be sorely missed."
In a Pepperdine Magazine story published in 2015 on the occasion of his 20th anniversary at the University, Zakian explained, "At Pepperdine my primary goal is education. I'm not just showing beautiful things to be admired for their own inherent beauty. I always emphasize that this art was made to convey certain ideas or make a particular point . . . we use our eyes all the time, but often we really don't see what is in front of us."
Sharing art was Zakian's passion, and his commitment to bringing art, and the enjoyment of it, to the public was in perfect alignment with the vision of the museum's namesake benefactor. He said that while some people considered art "a little off-putting and challenging," it was his desire that the Weisman Museum "break down those barriers."
Zakian took the helm as the director of the Weisman Museum in 1995, just three years after it was founded, and for the past 25 years his name has been intertwined with that of the institution. One of his more noteworthy efforts was his decision early in his career to feature the work of the modernist painter Agnes Pelton, whose reputation was revived as a result of Zakian's exhibit.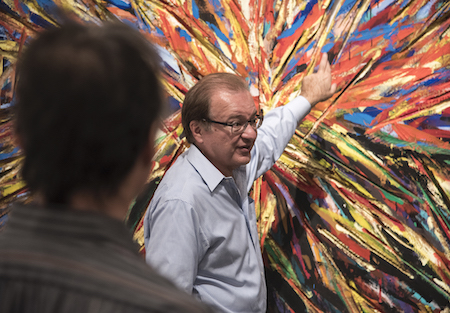 Other notable exhibitions over the years included Rodin's Obsession: The Gates of Hell (2001), featuring dozens of bronze sculptures derived from Rodin's famous, never-to-be-realized Parisian entryway; Roy Lichtenstein: In Process (2011), a show that chronicled the creation of the pop artist's works from simple sketches to final products; and Chihuly Los Angeles (2005), featuring site-specific glassworks by artist Dale Chihuly. To this day, Chihuly remains the most popular show in the Weisman's history with more than 31,000 visitors over four months.
Born on April 7, 1957, in New York, Zakian developed a keen eye for art during his childhood, and, with encouragement from his parents, spent his free time drawing. Throughout his teenage years, Zakian became heavily influenced by pieces displayed at the Metropolitan Museum of Art, the Solomon R. Guggenheim Museum, and the Museum of Modern Art. After graduating from high school, Zakian attended Columbia University, where the pre-med biology major decided instead to follow his passion for art, earning a bachelor's degree in art history in pursuit of one day managing a museum and teaching art history courses at a university.
Zakian continued his art education at Rutgers University in New Jersey, where his interest in art history led him to work as a teaching assistant while completing a master's degree with a focus on American abstract expressionism and, later, a doctorate in the same subject. Equipped with three art degrees on his resume, he moved to Southern California in 1984 and began working at the Palm Springs Art Museum, first as an assistant curator and soon after as an associate curator.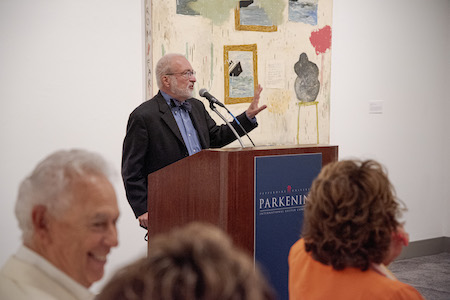 Zakian moved from Palm Springs to Malibu in 1995 to begin his position as the director of the Weisman Museum at Pepperdine—an opportunity he cherished, allowing him to once again return to an institute of higher education where he could connect with college students about art on a daily basis. His service to Pepperdine included teaching as well as curating, and his courses ranged from baroque and rococo art and architecture to contemporary art.
His love for art extending well beyond Malibu, throughout his career Zakian also taught courses at Rutgers, the University of Redlands, and California State University, San Bernardino. A practicing artist himself, he worked closely with several artists to publish books about their work, including Agnes Pelton: Poet of Nature, Sam Francis: Elements and Archetypes, and Wayne Thiebaud: Works from 1955 to 2003.
Prior to his passing, Zakian curated an extraordinary exhibition of 40 of Rodin's bronze sculptures that explores the complex biblical, mythical, allegorical, and secular associations surrounding the image of women. Zakian's final exhibition, Rodin and Women: Muses, Sirens, Lovers, will be on display at the Weisman Museum from January 18 to March 29, with an opening reception on Sunday, January 19, from 3 to 5 PM.
Zakian is survived by his wife, Lia Skidmore.
In lieu of flowers, members of the Pepperdine community are encouraged to contribute to the Michael Zakian Exhibition Fund. A memorial service for the Pepperdine community and Zakian's many friends will be held Monday, January 20, at 10 AM at Our Lady of Malibu Catholic Church in Malibu. A celebration of life reception will immediately follow at the Skidmore Contemporary Art Gallery at Bergamot Station in Santa Monica.