Pepperdine University Mourns the Loss of Former Women's Swimming and Diving Head Coach Nick Rodionoff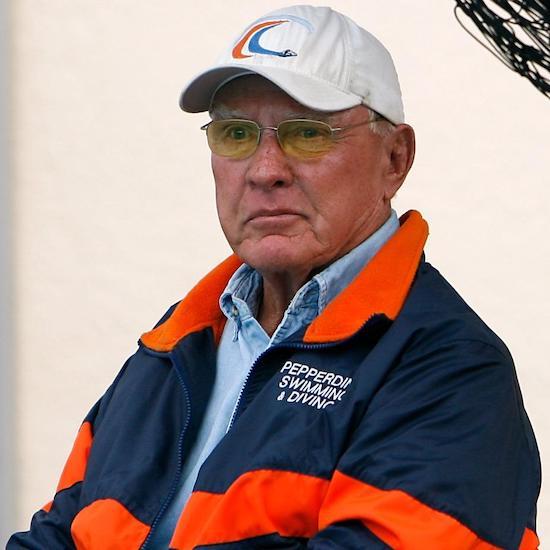 Pepperdine University is saddened to announce the passing of former women's swimming and diving head coach Nick Rodionoff, a 1975 International Swimming and Diving Hall of Famer, whose affiliation with the University spanned four decades. He was 87.
"It is truly a sad day for Pepperdine swim and dive," says director of athletics Steve Potts (JD '82). "Nick loved our program and every student-athlete he coached like no one else could. We pray for God's comfort, peace, and blessing for the entire Rodionoff family."
Rodionoff spent 18 seasons at the helm of the Pepperdine swimming and diving program (2000–2018) and elevated the Waves to a highly competitive level through his leadership. His tenure with the program runs parallel with the success of swimmers and divers he had coached at the high school and collegiate levels.
Since taking the reins as head coach just before the 2000–01 season, Rodionoff guided the Waves to 14 top-five finishes at the Pacific Collegiate Swim and Dive Conference (PCSC) Championships. In 2008 Pepperdine had its best-ever finish under Rodionoff and tied the then-best finish in school history with a second-place result. Rodionoff was named PCSC Coach of the Year after the 2002 and 2009 campaigns. He guided seven women to 12 conference titles and four to six NCAA Championship berths. He led Jessica Mosbaugh ('16) to back-to-back PCSC Division I Swimmer of the Year titles in 2014 and 2015 and six other student-athletes to PCSC Division I Diver of the Year honors: Michelle Barker ('03), Amanda Pond ('09), Tiffany Martz ('11), Kristin Scribner ('12), Klair Korver ('13), and Sydney Newman ('17).
"Swimming and diving, the Pepperdine community, and the coaching world have lost a giant," says Pepperdine men's volleyball Head Coach Emeritus and longtime friend, Marv Dunphy ('74). "Coaches, athletes, and people in general cherished being around Nick because of his brilliance, his abundance of common sense, what he stood for, and his deep caring. He was solid in every way, tough, and at the same time a kind teddy bear. Kindness is the highest form of wisdom, and Nick was kind."
Rodionoff's teams had a long-standing academic tradition at Pepperdine and were routinely awarded College Swimming and Diving Coaches Association of America All-Academic Team status semester after semester. Under his leadership, members of the swimming and diving team had been voted Pepperdine's Scholar-Athlete of the Year three times: Jessell Owens ('11), Korver ('13), and Brooke Fugate ('13).
"Nick welcomed me to this role with open arms and nothing but support and encouragement," says current Pepperdine swimming and diving head coach Ellie Monobe. "He provided me with the best head coaching transition a rising assistant could ever dream of. I am still incredibly humbled and honored to have known him and only wish I had met him sooner. Nick will be dearly missed by past and present student-athletes, but his legacy will forever be remembered by future swim and dive Waves."
Rodionoff first came to Pepperdine in 1974 to coach the men's diving team and went on to establish the women's program in 1987, which competed undefeated for five years. Prior to Pepperdine, he served as the diving coach at the University of California, Los Angeles, from 1964 to 1974.
At the high school level, Rodionoff was recognized as one of the top coaches across the country after serving 33 years as the head boys' and girls' swimming and diving coach at Birmingham High School, located in Van Nuys, Calif. His resume boasts 31 league championships, a record of 10 Los Angeles City Section boys' championships and four girls' championships. His teams compiled an astonishing dual meet record of 324-3 (.991), and he coached 36 high school All-Americans before retiring from high school coaching in February 1997. In 1999 the new Birmingham High School pool was named in his honor.
In addition to his International Hall of Fame induction, Rodionoff was inducted into the National High School Coaches Hall of Fame in 2004. He is currently one of only two swimming coaches to have received the honor. Rodionoff is the only coach in the United States to have coached national champions in both swimming and diving and also guided the women's national relay team to a 200 freestyle record.
A top choice for an Olympic coach, Rodionoff was honored in 1999 as the recipient of the Fred A. Cady Memorial Coaches Award. The award is presented biannually to coaches who have dedicated 25 or more years to diving, while developing outstanding talent in the US National Diving program and international competition, including the Olympic Games.
Rodionoff also taught for the Los Angeles Unified School District for 39 years. In addition to his teaching and coaching career, he was an accomplished photographer, known for his images of the Malibu area.
A 1957 graduate of Occidental College, Rodionoff was a three-year standout who participated in diving, football, and track and field. He captured the conference diving title in his senior year of competition.
A memorial service will be held on Saturday, March 4, 2023, in Stauffer Chapel on the Malibu campus. In lieu of flowers, the Rodionoff family has requested that donations be made to the Nick and Carrie Rodionoff Endowed Fund benefiting the Waves women's swimming and diving program. For more information, please contact Jimmy Gehrels, director of development for Pepperdine Athletics.