Pepperdine University Mourns the Loss of Longtime Benefactor Terry Mullin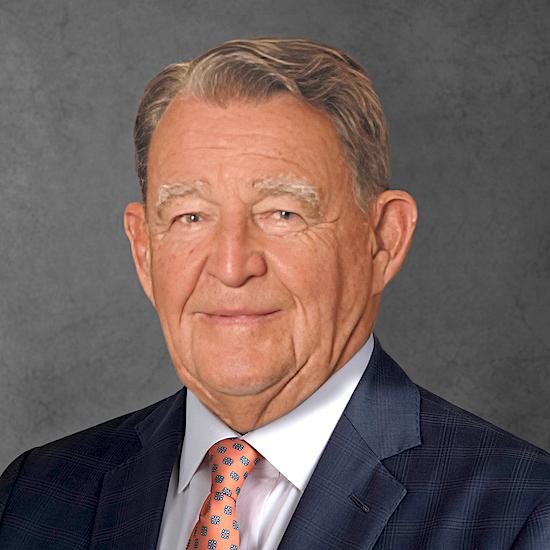 Terry Mullin, beloved longtime benefactor of Pepperdine University, passed away on April 25, 2023, in Bel Air, California, at age 101.
"Terry Mullin has undoubtedly been one of Pepperdine's strongest and most dedicated supporters, advocates, and friends," says Pepperdine president Jim Gash. "Terry and Sharon's profound contributions to both the campus footprint and the University's legacy have helped shape Pepperdine's vibrant student life experience for decades. Though Terry will be deeply missed, the Mullin family's friendship will continue to provide invaluable experiences to the Pepperdine community for generations to come with the construction of the Mountain at Mullin Park, which will stand as an enduring monument to Sharon and Terry's generosity and deep love for our community."
Born August 25, 1921, Mullin grew up in Burbank, California, and spent most of his life in Southern California. Mullin earned a bachelor's degree in economics from Stanford University, where as a student-athlete he was a member of the championship tennis team. Following college, Mullin served in the US Navy during World War II. He then followed in his father's footsteps, launching his own career in the lumber business. In December 1949 Mullin opened the first of his lumber companies, Tarzana Lumber Co.
The San Fernando Valley-based company soon expanded to include other related businesses and became known as Terry Companies. As Mullin helped usher in a new era in Southern California's building supply industry, he was also instrumental in the field nationally, serving as the president of the National Lumber Association. By 1999 Terry Companies owned 23 building-material companies and 14 lumber yards, maintained nearly 1,000 employees throughout Southern California, and had generated an estimated $300 million in sales. Following more than 50 years of family ownership, the business was sold in November 1999 to Carolina Holdings in Raleigh, North Carolina.
On September 10, 1992, Mullin married Sharon Ritchie, former Miss Colorado and Miss America. Throughout their marriage, Sharon and Terry were great supporters of each other, their family and friends, and the Pepperdine community.
Mullin was introduced to Pepperdine by former Board of Regents member Leonard Straus, a person he greatly admired and the namesake of the Straus Institute for Dispute Resolution at the Caruso School of Law and the Ralphs-Straus Tennis Center on the Malibu campus. Mullin was drawn to Pepperdine because of its superior academic programs and commitment to the values of character that he held dear. After Straus' passing, his widow, Dorothy, introduced Terry and Sharon to Senior Vice Chancellor and Caruso School of Law Dean Emeritus Ron Phillips, and the Mullins soon became members of the Pepperdine family.
Beyond their admiration of Pepperdine, the Mullins have been extraordinary benefactors of the University. In the history of Pepperdine, the Mullins have given more to the University than any other benefactor with the exception of the founder of Seaver College. The Mullins provided the largest single gift to The Campaign for Pepperdine: Changing Lives. Their generous gift resulted in the development and dedication of the Sharon and Terry Mullin Town Square in the heart of the Malibu campus, creating a welcoming place for students, faculty, and visitors to gather. The Mullins' monumental gift will continue to change lives with the opening of the Mountain at Mullin Park, Pepperdine's highly anticipated state-of-the-art complex and the future home of its sports and events arena, leading fitness center, and resilience resources. In honor of their generous lifetime giving, the Mullins were inducted into the Diamond Wave Society in 2015.
"Terry was the ultimate gentleman and a gentle man," says Phillips. "He was a great patriot, a family man, a successful entrepreneur, and a collector of friends. He was drawn to excellence, to quality, and to beauty, which was demonstrated in the homes he built as well as in his dear wife, Sharon, a remarkable, extraordinarily talented, and gracious woman who is beautiful inside and out. Terry was also a man of great character and felt passionately about developing students' character, which he encouraged at Pepperdine through his generous support of magnificent campus grounds for community and fellowship. He will be deeply and dearly missed."
Mullin is survived by his wife of 30 years, Sharon Ritchie Mullin; daughter, Reilley Mullin; stepson, Shawn Cherry; grandchildren, Kelly Hitchcock (MBA '05), William Mullin, Russell Mullin (MBA '14), Kerry Mullin, Shawn T. Cox ('12, MBA '12), Jeremy Cherry, Peter Cherry, Brett Cherry, and current Seaver College student Colton Cherry; and 14 great-grandchildren. Mullin was preceded in death by his parents, Russell and Merced Mullin; his late wife, Diane King Mullin; his sons, Tom and Russell Mullin; and his stepson, Stephen Cherry.