Pepperdine Posts Strong National Collegiate Athletic Association Graduation Success Rate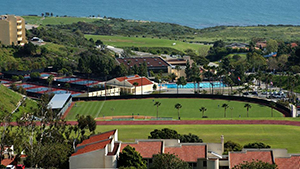 In December 2021, The ​​National Collegiate Athletic Association (NCAA) released its graduation success rate (GSR) numbers for Division I and II universities across the nation. Pepperdine University Athletics boasted an overall GSR of 91 percent for athletes enrolled between 2011 and 2014. The rates continue to show a positive outlook for student-athlete academic success at Pepperdine.
Pepperdine's rate stands just slightly above the national average of 90 percent and tied for eighth out of California's 25 Division I universities. Eight Waves Athletics programs—men's cross country and track, women's cross country and track, men's golf, women's golf, women's swimming and diving, men's tennis, women's tennis, and men's volleyball—carried their 100 percent GSR from last year into this year's ranking. Additionally, 12 of Pepperdine's 14 programs either maintained their GSR or improved numbers from the year prior.
To learn more about Pepperdine Athletics, visit the website.