Pepperdine to Premiere Easter 2021 Chapel Service on YouTube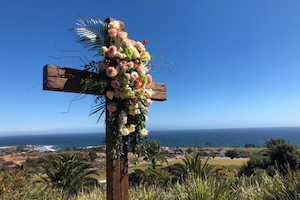 Through a partnership between Pepperdine Human Resources and the Office of the Chaplain, a prerecorded Easter service planned for the University community will be available on YouTube at 9 AM PT on Friday, April 2, 2021. This year's theme, From Death to Life, will feature a devotional from David Lemley, associate professor of religion at Seaver College, who will explore the importance of the resurrection in modern-day society, a group of Seaver College students who will deliver a reading of Psalm 22, and calligraphy of an original poem written by Nicole Duyao, associate director of residence life at Pepperdine.
"This year's Easter worship service invites the Pepperdine community to journey through the death and resurrection of Jesus. Together we will listen to the Scripture Jesus quotes on the cross, we will meditate on the love of God displayed through Jesus' death, and we will celebrate the good news of the resurrection," shares Lauren Begert (MA '15), assistant chaplain at Pepperdine University. "As the world moves toward the hope and healing of Easter, we look to Jesus who inspires us to be people of radical and sacrificial love each and every day."
With footage from the Malibu campus and collected recordings of Zoom conversations, the service will showcase music from the Pepperdine Chamber Choir, feature readings of Bible passages, and include prayers and blessings offered to the community.
For additional information about this year's prerecorded Easter service, visit the event's registration page.