Pepperdine Professor Emeritus Gordon Lloyd Leads Annual Charles and Rosemary Licata Lecture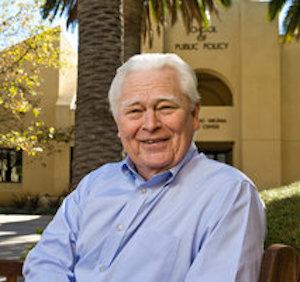 Gordon Lloyd, senior fellow at the Ashbrook Center and Robert and Katheryn Dockson Professor Emeritus of Public Policy at Pepperdine University, will present "Rugged Individualism: Dead or Alive?" at the annual Charles and Rosemary Licata Lecture hosted by the School of Public Policy at Wilburn Auditorium at Drescher Graduate Campus in Malibu on Tuesday, February 7, at 6 PM.
In his discussion, Lloyd will examine individualism not only through the lens of psychology and sociology, but also within a political context. He will explore the history of American individualism, from its earliest roots in religion during the colonial period up to the present day.
The coauthor of three books on the American founding and sole author of a book on the political economy of the New Deal, Lloyd has also written numerous articles, reviews, and opinion pieces. His latest coauthored book, The New Deal & Modern American Conservatism: A Defining Rivalry, was published in 2013, and in 2014 he released as editor Debates in the Federal Convention of 1787. With the help of the Ashbrook Center, he has created four highly regarded websites on the origin of the Constitution.
He has received many teaching, scholarly, and leadership awards, including admission to Phi Beta Kappa and the Howard White Award for Teaching Excellence at Pepperdine University. He currently serves on the National Advisory Council for the Walter and Leonore Annenberg Presidential Learning Center through the Ronald Reagan Presidential Foundation.
Lloyd holds a bachelor's degree in economics and political science from McGill University in Canada, as well as master's and doctorate degrees in government from Claremont Graduate School in California.
For additional information about this lecture, visit the School of Public Policy website.