Pepperdine Professor Luisa Blanco to Partner with UCLA to Increase Vaccine Acceptance in Latino Families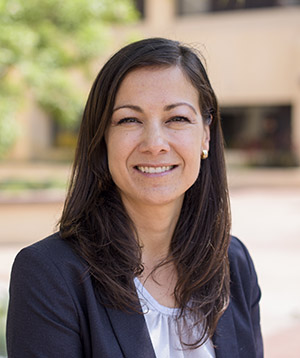 Following her studies on the economic impacts Latinos are facing due to COVID-19, Luisa Blanco, professor of public policy and economics at the School of Public Policy, will begin a community-based study to improve vaccine acceptance in Latino communities in Los Angeles. Blanco will collaborate with the University of California, Los Angeles (UCLA) associate professor Yelba Castellon-Lopez and community organizations such as InnerCity Struggle, Families in Schools, and Innovate Public Schools. The program is a testament to Blanco's efforts to blend technology, policy, and education together to create meaningful change within underserved communities.
Since the onset of the pandemic, Latino communities have faced significant economic and health impacts with considerable disparities compared to other populations. Latinos have faced higher unemployment rates than other groups, have lost retirement savings to cover the cost of basic needs, and have experienced a higher risk of serious COVID-19 infections. As the US continues to see encouraging improvements in COVID-19 infections across the nation, public health experts believe vaccines are critical in the nation's effort to fully recover from the pandemic.
Blanco and Castellon-Lopez state, "Improving COVID-19 vaccine acceptance among Latinos is necessary to mitigate the disproportionate impact of COVID-19 on Latinos and address health disparities." Unfortunately, minority populations and those in lower-income groups are showing less trust in COVID-19 vaccines. This lack of acceptance could draw out COVID-19 related economic and health impacts on Latino communities, especially families who faced financial hardship before the pandemic, long after the nation's virtual economic recovery.
To improve vaccine acceptance, Blanco and Castellon-Lopez have partnered with InnerCity Struggle, Families in School, and Innovate Public Schools—community-based organizations dedicated to supporting low-income families in East and South Los Angeles—to develop a family-centered mobile intervention campaign. The project, made possible through funding from UCLA and Pepperdine, aims to counter vaccine misinformation with easily accessible vaccine and COVID-19 educational material.
Building upon Castellon-Lopez's previous work to address health disparities in vulnerable communities and Blanco's holistic understanding of the long-term impacts, the education material will be carefully developed with a culturally competent lens. Additionally, the campaign will be available in both English and Spanish and easily accessible via mobile text messaging on a twice-a-week basis. The researchers hope to recruit more than 600 participants in the pilot campaign who, with access to consistent and accurate information, will become confident "influencers" within their families to ultimately continue increasing vaccine acceptance.