Pepperdine Raises Over $470 Million Through 'Changing Lives' Campaign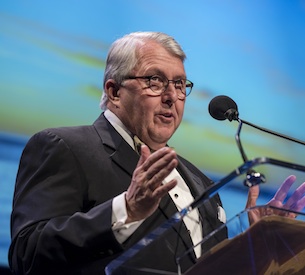 Thanks to the generosity of nearly 50,000 alumni, friends, faculty, staff, foundations and corporations, Pepperdine University's historic Campaign for Pepperdine: Changing Lives surpassed its $450 million goal by more than $20 million.
The campaign was led by Pepperdine regents Marylyn M. Warren ('58), vice president of eHarmony.com, and Glen A. Holden, U.S. Ambassador (Ret.). Both expressed their gratitude for "the extraordinary talent and generosity of all who participated in this quest" noting that "every dollar donated is being put to work for the mission of the University and the students we serve."Transformational, major dollar commitments propelled the campaign to historic levels with donors helping to meet many fundraising objectives that directly impact students. Key successes include $141 million in scholarship funds and aid to students; $140 million in new faculty and academic initiatives; and $114 million in campus improvements, including key international facilities, Mullin Town Square, and a future University Events Center.
More than half of campaign donors were first time givers to Pepperdine, raising more than $58 million. Donors also came from all 50 states and 65 countries, contributing more than 159,000 gifts to the campaign.
The silent phase of the campaign began in August 2005 with the public phase launching on May 14, 2011, at the 35th annual Pepperdine Associates dinner. "What made this Campaign particularly extraordinary is that it occurred during difficult national economic times, and during a corresponding downward trend in philanthropic support. Despite those challenges, dedicated alumni and friends generously donated millions of dollars to Pepperdine, allowing the University to realize its vision, dreams, and goals of meeting the needs of its students," said Andrew K. Benton, Pepperdine University president (pictured above).
The historic success of the Campaign, which concluded on December 31, 2014, was celebrated at the sold out Pepperdine Associates dinner on January 24, 2015.
"We're overjoyed that so many donors were able to celebrate this historic feat with us. The entire Pepperdine community is humbled by their generosity and support. We look forward to continuing our mission and transforming the lives of all who attend Pepperdine for many years to come," said Keith Hinkle, Pepperdine's senior vice president for Advancement and Public Affairs and chief development officer.