Pepperdine Remembers Helen M. Young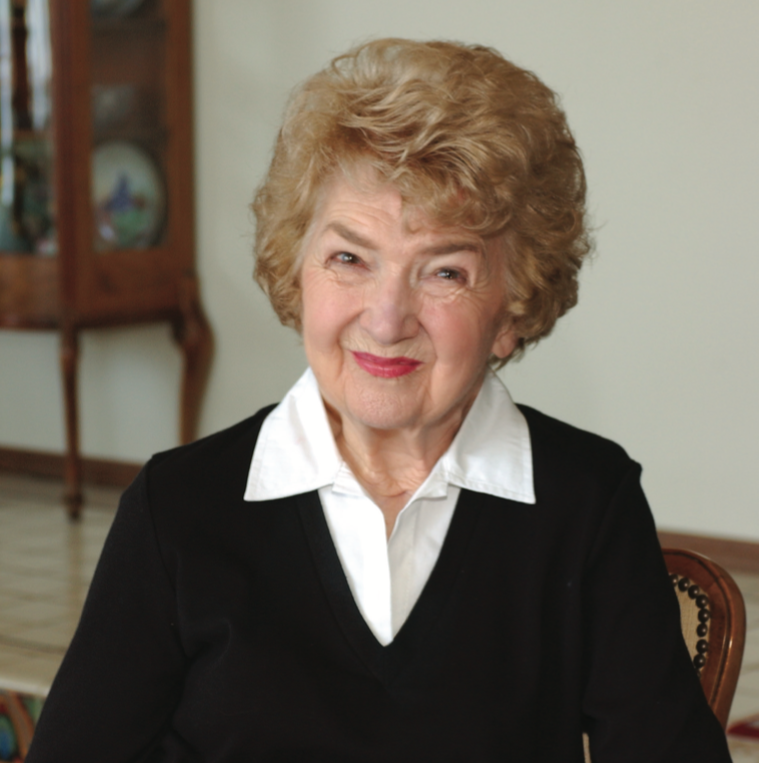 In Firestone Fieldhouse, where 20 years ago her beloved husband, M. Norvel Young, was remembered by a community of friends and colleagues, former Pepperdine first lady Helen Mattox Young was honored with her own memorial on Friday, January 5, attended by hundreds of devoted friends, family, and witnesses to a magnificent life that was characterized by a generous spirit and incomparable influence.
As Ken Durham, Batsell Barrett Baxter Chair of Preaching and associate professor at Lipscomb University, shared in his opening remarks, the ceremony was planned as an affirmation of Christian hope that defined her life. "Who more than Helen shone bright as the promise of God?" he implored the audience before welcoming President Andrew K. Benton, who shared private moments and personal anecdotes about Norvel and Helen's lifelong mission to "do some good." Benton also shared how Helen loved the dream that was Pepperdine and lived to see it in vibrant times, serving in strength.
Benton said, "The portrait I would like to paint of Helen for future generations would be vivid with life, soft in inherent warmth, rich with comfort, and all the while leaning forward, ever forward into the future."
Jerry Rushford, director of Pepperdine's Rushford Center for Research on Churches of Christ and the Stone-Campbell Restoration Movement, with boundless energy, told guests of Helen's ability to minister to people of all walks of life at any given time. He recalled a pilgrimage to England, where he and Helen were joined by more than 30 others from Pepperdine who took in a production of Les Misérables one evening. When their driving arrangements fell through, they were forced to travel through the London Underground, where Helen was drawn to a weary passenger in need of personal attention. After a few minutes with Helen, the woman lit up, seemingly uplifted by the simple words and kindness that was distinctly hers.
"Helen made you feel like you were on the map of the universe," Rushford said, "connected somehow to the stars, a part of the mind of God. She gave us a vision and a dream."
In the words of Rushford, "We found her and we shared her and we shared that faith. And because we shared that faith, we are persuaded that we will be with Helen again."
Guests were also treated to a video tribute that gave a history lesson on Helen's background and life and celebrated the impact that she made on the lives of her Pepperdine colleagues. The video featured interviews with President Benton, chief human resources officer Lauren Cosentino, Dean Emeritus of Seaver College David Baird, Young's daughter and Pepperdine's senior vice chancellor Sara Jackson, and Young's daughter Emily Lemley, among others.
A choir of Pepperdine faculty, students, and alumni led guests in the communal singing of Helen's favorite hymns, including "Be Still, My Soul" and "Come, Thou Fount of Every Blessing." Seaver College alumna Jessica Rivera-Shafer ('96) performed "Be Thou My Vision" and "In Christ Alone" as part of the musical benediction.
"I think Helen's lasting gift is love, genuine love, for all people," shared daughter Emily, on stage with her siblings Sara and Matt Norvel Young. "She loved through her teaching of college classes at Pepperdine and at retreats and seminars all over the world. She led the love she taught."
"She was never ours, she was never yours, she was not even her own," Lemley continued. "She was always, and now forever, the Lord Jesus Christ's."
Donations made in Young's memory to the Associated Women for Pepperdine (AWP), an organization first started by the legendary first lady of Pepperdine more 60 years ago that ignited women and men to work tirelessly to provide financial assistance to Christian students at Pepperdine University, exceed $30,000. Donations may be submitted through the AWP page on the Pepperdine University website, or sent to AWP, 24255 Pacific Coast Highway, Malibu, CA 90263.

A Tribute to Helen Young