Pepperdine Remembers Life Regent Jerve Jones
Pepperdine University mourns the loss of Jerve Jones, a longtime member of the U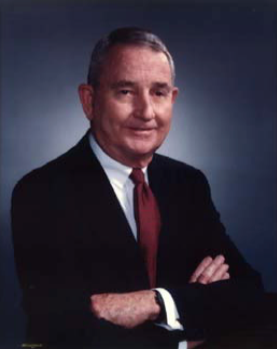 niversity community.
Jones was elected to the Board of Regents at Pepperdine University in 1986, and elected to Life Regent status in 2002.
"Jerve was a valued friend and trusted regent and advisor at Pepperdine," says Pepperdine University president Andrew K. Benton. "He always thought carefully before he spoke, and what he said was so wise and eloquent in its simplicity. I will never forget the fact that despite his many successes in life, he never lost the common touch."
Jones graduated from the University of Southern California in 1939 with a bachelor of science degree in mechanical engineering, and soon after joined his father's small construction company, Jones Brothers Construction.
Through his dedication to grow the company's clientele and projects, Jones Brothers Construction became one of the largest Los Angeles-based construction companies of the 1980s, having signed deals with well-known corporations, such as American Airlines and Pacific Telephone Company.
During this time, Jones became chair of the Construction Industries Council of the Los Angeles Area Chamber of Commerce. He also cofounded Jones Construction Management, later known as JCM Group, as well as Held/Jones, a partnership among Held Properties, Jones Brothers, and JCM Group.
In 1987 Jones Brothers and C.L. Peck merged to become Peck/Jones Construction Corporation, and Jones served as the new company's CEO and president until the late 1990s. Under his leadership, Peck/Jones development projects included reconstruction of the passenger terminals for American Airlines at Chicago O'Hare Airport and Los Angeles International Airport, as well as the Ronald Reagan Presidential Library.
Upon leaving Peck/Jones, he joined forces with one of his sons, Kevin, to launch the construction management and general contracting company Jones and Jones, selected to oversee projects such as the Red Building at Pacific Design Center, Calabasas Civic Center, and American Airlines gate enhancements at Los Angeles International Airport.
A founding member of the Construction Management Association of America, Jones was active on the boards of various industry organizations, schools, hospitals, charities, and universities, including Pepperdine.
Jones is survived by his wife of 74 years, Alice Jones, and their three children, Greg, Janey, and Kevin. He also leaves behind seven grandchildren and four great-grandchildren.