Pepperdine Resident Dance Company Dance in Flight to Debut Documentary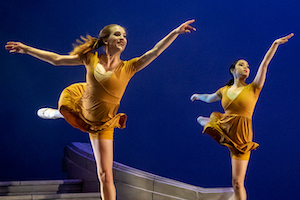 Dance in Flight, Pepperdine University's resident dance company featuring students from a variety of performing arts backgrounds, interests, and fields of study, will debut its first-ever documentary film, RAW, on May 1–2, 2021, at 6 PM PT. In accordance with health and safety measures amid the ongoing coronavirus pandemic, the documentary will take the place of the student-led dance company's annual spring performance at Smothers Theatre in Malibu.
"As with any art form, we want people to feel connected and understood by our work and experience the impact and the importance of our community. Our goal was to create a show that uses dance as the medium to express what words cannot and to highlight the human experience," explains Erinn Heffes, a Seaver College senior who co-directed this year's performance.
To maintain quality production standards, the University shipped costumes and lights to all dancers, who had to film their routines individually after rehearsing the choreography either synchronously via Zoom or asynchronously by following along to pre-uploaded videos.
For more than 20 years, Dance in Flight has provided an environment for emerging student dancers and choreographers to cultivate creativity, physical expression, and teamwork in a professional performing atmosphere. Through choreography, casting, rehearsals, and collaboration with lighting and costume designers, students develop significant leadership skills that become useful in all aspects of adult life. Performances spotlight Pepperdine students of all majors and backgrounds, and feature a variety of dance principles that include jazz, hip hop, tap, ballet, modern, theatrical, and ballroom.
For additional information about RAW, visit the event's page on the Center for the Arts website.