Pepperdine School of Law to Host 2017 Southern California Trial Lawyers Conference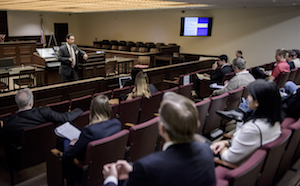 Pepperdine University School of Law will host the second annual Southern California Trial Lawyers Conference at Caruso Auditorium on the Malibu campus on Saturday, January 28, from 8:30 AM to 4 PM.
The day's event will feature six panel discussions led by many of the region's top trial attorneys. The sessions will include:
"Practical Tips for Dealing with Difficult Cases"
Moderator:
Mark Hiepler
Panelists:
Judge Richard Aldrich, associate justice of the California Court of Appeal, Second Appellate District, Division Three
Geoffrey Wells, partner, Greene, Broillet & Wheeler
Moderator:
Robert Simon
Panelists:
Gary Dordick, partner, Law Offices of Gary A. Dordick
Spencer Lucas, Panish Shea & Boyle
Alex Wheeler, Parris Law
Mauro Fiore, Jr., Law Offices of Mauro Fiore, Jr.
Speaker:
David Ball
"How Insurance Companies 'Practice' Medicine"
Moderator:
Michael Bidart
Panelists:
Robert Gianelli, Partner, Gianelli & Morris
Theresa Barta, Law Offices of Theresa J. Barta
"Effective Opening Statements and Closing Arguments by the Masters"
Moderator:
Brian Chase, senior partner, Bisnar Chase
Panelists:
Brian Panish, Panish Shea & Boyle
Nick Rowley, Carpenter, Zuckerman & Rowley
The discussions will be followed by a breakout session for law students, "What Do I Need to Do in Law School to Become a Strong Trial Advocate?"
The Southern California Trial Lawyers Conference seeks both to highlight the many ways that trial lawyers advocate for justice in their local communities and to showcase Pepperdine Law's contributions to the field.
Free admission is given to current Pepperdine students, faculty, and staff. Ticket prices for other parties range between $25 and $150. For additional information about the conference, and to register to attend, visit the School of Law website.