Pepperdine School of Law to Host 2019 Commencement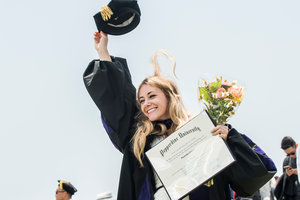 The Pepperdine University School of Law spring 2019 commencement ceremony will take place at Alumni Park in Malibu on Friday, May 17, at 10:30 AM.
The University will confer 179 juris doctor degrees, 60 master of legal studies degrees, 35 master of Law (LLM) degrees, and 32 master of dispute resolution (MDR) degrees.
Michael C. Leach (JD '86), who currently serves as the head football coach at Washington State University, will be recognized as this year's Distinguished Alumnus.
Ajit Pai, chair of the Federal Communications Commission (FCC), will deliver the commencement address. Pai will also be presented as the candidate for an honorary doctorate. Before joining the FCC, Pai was a partner at Jenner & Block, LLP, and he served in a number of federal government positions, such as deputy general counsel, associate general counsel, and special advisor to the general counsel at the FCC; and as chief counsel to the chairman of a subcommittee of the Senate Judiciary Committee. Pai graduated from Harvard University in 1994 and from the University of Chicago Law School in 1997, where he was an editor of the University of Chicago Law Review.
For those unable to attend, the ceremony will be available via Livestream.