Pepperdine School of Public Policy Donates Thousands of Protective Face Shields to Los Angeles Healthcare Providers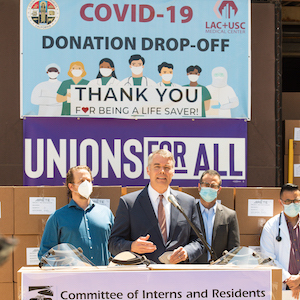 The Homeland Security Advisory Council at the Pepperdine School of Public Policy (HSAC@SPP) donated 3,000 reusable face shields to LAC+USC Medical Center following an onsite press conference on April 14, 2020. The face shields are designed to protect medical staff involved in procedures that may expose them to infectious fluids while treating patients diagnosed with COVID-19.
"One of the great honors derived from our new HSAC@SPP initiative is the opportunity to work with great Los Angeles-area civic leaders like our board chair, Peter Lowy," said Pete Peterson, dean, Braun Family Dean's Chair, and senior fellow at the Davenport Institute for Public Engagement at the School of Public Policy. "For many years, Peter has led and supported efforts that focus on the safety and resilience of this region. This gift of face shields given on behalf of HSAC@SPP will go directly to protecting our healthcare heroes on the frontlines of this crisis."
Developed by Northridge-based movie prop producer Arete, the donation was made in partnership with the Emergency Supply Donor Group, a nonprofit organization that raises funds to provide personal protective equipment to Los Angeles hospitals encountering extreme shortages.
Founded by local philanthropists and other leaders to help support the city's efforts to prepare for and respond to a crisis—whether man-made, pandemic, or natural disaster—HSAC@SPP provides technology platforms and opportunities for engagement, capability building, and partnerships for the public, private, and civic sectors. The goal of the organization is to provide a platform for safety agencies, business, city leaders and communities to enable smarter and more capable decision making.
The council's SALUS crisis platform publishes real-time interactive maps in both English and Spanish that contain data-supported information on a wide variety of coronavirus-related topics, including confirmed COVID-19 cases in every county in California, the United States, and the world, Los Angeles city and county testing locations, food donation centers, and emergency childcare programs.