Pepperdine School of Public Policy to Explore the Road to Reopening Amid the Pandemic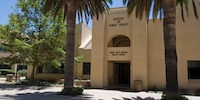 The Pepperdine School of Public Policy will present "Engagement During Pandemic Uncertainties: Engaging Along the Road to Reopening," an online panel discussion, on Wednesday, August 19, at 10 AM PDT.
Panelists will With ever-changing orders from state and county health departments about reopening and scaling back reopening, local governments face a two-fold challenge. They must comply with decisions that have already been made by public health experts and officials, while also responding to resident insights and concerns about decisions that impact the community. In this discussion, panelists will address the question, "What is the appropriate role of the citizen in wrestling with tradeoffs between physical health, mental health, job loss, and education options?" and will explore how to truly engage residents in such policy decisions.
For additional information about this event, and to register to attend, visit the School of Public Policy website.