Pepperdine School of Public Policy to Host Second Episode of The Path Back to School Webinar Series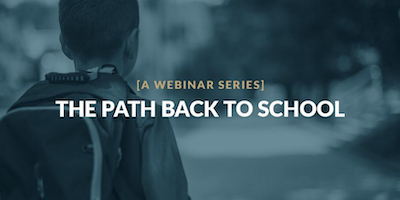 As part of The Path Back to School webinar series, the Pepperdine School of Public Policy will host episode two: "Academics and Talent," on Wednesday, July 8, at 11 AM PDT. Each episode of the series brings together a different set of educators and thought leaders who provide diverse perspectives and ideas on the issues and opportunities facing the K-12 community during the time of the coronavirus pandemic.
The second episode of the series will feature Candice McQueen, CEO of National Institute for Excellence in Teaching, John Deasy, founding editor of the Line and former superintendent of the Stockton Unified School District, Derrell Bradford, executive vice president of 50CAN, Jason Froelich, vice president of HCM Solutions by Frontline Education, John Bailey, Visiting Fellow at American Enterprise Institute, Tresha Ward, partner of Bellwether Education, and Hanna Skandera (MPP '00), editor in chief of the Line and visiting professor of education policy and impact at Pepperdine School of Public Policy. The speakers will discuss the continuity of learning plans and teacher vulnerability as students consider a return to school following COVID-19.
The panel discussion will be followed by a fireside chat with Mark Gruzin, CEO of Frontline Education, Dan Cogan-Drew, cofounder and chief academic officer of Newsela, and Shalinee Sharma, CEO and cofounder of Zearn Math.
For additional information about the series, and to register to attend, visit the School of Public Policy website.