Pepperdine Student Art Thesis Exhibition on Display at Weisman Museum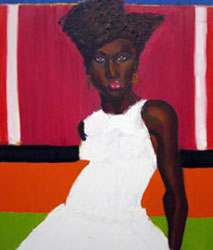 Graduating seniors enrolled in the Pepperdine University Seaver College studio art program will showcase their unique artwork at the Frederick R. Weisman Museum of Art in Malibu from Thursday, April 14, through Saturday, April 30.
The 2016 exhibition will feature Pepperdine's largest graduating class of artists in several years, each with a different artistic focus, making this year's theme "Light & Dirty" an eclectic collection of diverse narratives. The art displayed will portray the deep complexities of identity, race, history, and gender, and range from painting and installation, to concept art oriented on social commentary. All artists will be assigned their own walls at the museum to display multiple pieces of work.
The student artists include Meridith Cary, Candice Erdös, Lydia Jewel Gerard, Jay Hartmann, Esther Jina Lee, Kyle Long, Corinne Luper, Christine Nelson, Naomi Purnell, Kubie Rudd, and Sara Um.
"We have such a diverse range within the theme of 'Light & Dirty,' which is why we call it that," explains Cary, who will present several oil paintings with figural representations related to the first two chapters of Genesis. "There will be children's animation and a giant igloo, and works on social and institutional critiques that are relevant to things going on at Pepperdine," she continues, adding that the exhibition will portray "the light side of life, and the dirty side of life that doesn't get discussed that often."
The Weisman Museum is open Tuesday through Sunday, from 11 AM to 5 PM. For additional information about this free art exhibition, visit the Lisa Smith Wengler Center for the Arts website.