Pepperdine Student Health Center Vaccination Clinics Offer COVID-19 Vaccines to University Community
On March 11, the Pepperdine University Student Health Center (SHC) opened the first COVID-19 vaccine clinic at the Malibu campus upon receiving 500 doses of the Moderna vaccine from the Los Angeles County Department of Public Health (LACDPH). Under the COVID-19 Vaccine Phase 1B developed by the LACDPH—which includes individuals working in education—all faculty, staff, and students who are employed by Pepperdine are eligible to receive the vaccine. As of March 24, the SHC has administered more than 450 of the available 500 doses.
"In my more than 30 years as a physician and 15 at Pepperdine, providing this vaccine and hopefully ending this pandemic is truly one of the most important things I have done in my career," says Lucy Larson, medical director of the SHC. "The entire Student Health Center team believes so strongly in the importance of vaccination that we all became immunized when the vaccine became available to us. Protect yourself, protect your family, protect your friends, and protect your Pepperdine community by getting vaccinated."
The SHC vaccinates about 100 eligible recipients per day when hosting a vaccine clinic. On March 15, the LACDPH expanded vaccine eligibility to include recipients between the ages of 16 to 64 who have underlying health conditions or disabilities.
"The Student Health Center is committed to protecting the health and wellness of our community," says Gabe Garcia ('20), administrative and communications specialist at the SHC. "As a medical facility, we are in a position to carry out our purpose and serve others during this incredibly challenging time. It has been a blessing to play a role in protecting people from this new and dangerous virus."
Seaver College senior Gabriela Muschaweck, student manager of Pepperdine Outdoor Recreation, shares that the welcome staff helped minimize any nervousness that she felt during her appointment. The sports medicine major and German minor was also impressed by how knowledgeable the nurse administering the vaccine was about the COVID-19 vaccine.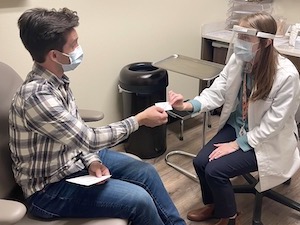 "The Student Health Center is making the Pepperdine community feel comfort during vaccination, despite it being a moment that reminds us of the hardships from the pandemic," says Nelson Granados, professor of information systems at Graziadio Business School and executive director of the Institute for Entertainment, Media, Sports, and Culture at Pepperdine. "I could feel the warmth and care by all those with whom I interacted, from check-in to vaccination and from post-vaccination monitoring to exit. They clearly thought of details to make it feel seamless and safe. Thank you so much to everyone at the Student Health Center."
Robert Emrich ('91, MS '98, EdD '03), full-time lecturer of decision sciences at Graziadio Business School, notes that in his 25 years at Pepperdine, witnessing this example of purpose, service, and leadership from SHC staff, clinicians, and volunteers has made him particularly proud of his alma mater.
Rebecca Roldan ('17, MS '20), clinical director of the SHC, shares that hosting the vaccine clinics has refreshed her faith that conditions related to the coronavirus pandemic will improve. "Having the opportunity to serve as a vaccination site for our Pepperdine community has been so meaningful," Roldan says. "It feels like we are making history as we give our community hope and contribute to the health and wellness of our Pepperdine family."
Appointments to receive the vaccine must be made in advance to ensure dose availability. Registration is on a first-come, first-served basis and walk-ups will not be accepted.
Those who currently have or have had any symptoms of COVID-19 in the past 10 days or have been exposed to someone with symptoms must remain home and schedule an alternate vaccine appointment after the 10-day period has passed.
Pepperdine community members seeking additional information about the SHC vaccine clinics at the Malibu campus and to schedule an appointment may contact the University's COVID-19 Information Line at 310.506.8111 or covid19info@pepperdine.edu.