Pepperdine Students to Showcase Artwork at Weisman Museum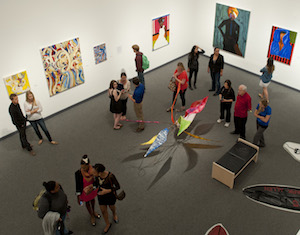 Graduating seniors enrolled in the Seaver College studio art program will showcase their unique artwork at the Frederick R. Weisman Museum of Art in Malibu from Thursday, April 13, through Saturday, April 29, with a public opening reception on April 13, from 5 to 8 PM.
The 2017 theme, "Absolute Mad Freedom," will consider an overarching desire to examine the norm. As each artist investigates ideas of limitation and liberation, creative responses are all at once meditative yet exuberant, reductive yet abrasive.
Student artist Yena Kim, whose artwork portrays gender, race, and other humanitarian issues, shares that the displayed pieces will encapsulate honesty and sincerity while challenging viewers to think critically about the subject matter.
"Each student has a distinct voice that has been shaped by or her experiences and backgrounds. And no two people can have the perfectly same experiences, thus creating diverse perspectives unique to the individual," she explains.
"In life and art, always take a closer look because you will always see more," advises fellow student artist Mary Lum, whose work utilizes mixed-media and sculptural approaches to create portraits focusing on women.
"My thesis addresses the idea that tragedy and oppression occur within the bounds of normality," she says. "Through my art I seek to explore the identities and portraits of people—specifically those struck by pain or cultural hardships that choose to fight on and to keep living."
The displayed artwork will range from installation to drawing, to textiles and sculpture, as artists explore issues that address identity, story, and the passing of time.
This year's student artists include:
KayKay Blaisdell
Sharon Carl
Susie Scribner Cervantes
Ashley Ekstrum
Sarah Gilchrist
Yena Kim
Mary Kensey Lum
Leanna Schroeder
Alexandra Springer
Sarah Jane Souther
Jacob Yeroshek
Beatrice Young
The Weisman Museum is open Tuesday through Sunday, from 11 AM to 5 PM. For additional information about this free art exhibition, visit the Center for the Arts website.