Pepperdine Theatre Department to Present Fine Arts Cabaret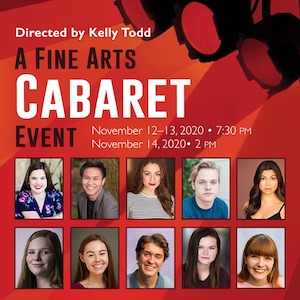 In response to the distanced learning format of the fall 2020 semester, the Seaver College Fine Arts Division will host a three-night virtual cabaret featuring musical theatre students. Each performer will share personal stories and sing various songs in order to connect with the public and Pepperdine University community. Sophomores will perform on Thursday, November 12, juniors will perform on Friday, November 13, and seniors will perform on Saturday, November 14. Kelly Todd, visiting full-time professor at Seaver College, will direct the performances.
The cabaret will feature:
November 12
Penny Devlin
Dawson Foster
Maddy Sprague
November 13
Lauren Burton
Lauren Drake
Bri Lawrence
November 14
Syd DeMaria
Brandon Gille
Joe Hebel
Brooke Moltrum
Registration is required and limited registrations are available for each performance. A viewing link will be sent to all registered attendees in advance of the performance. For additional information about the Fine Arts Cabaret, and to register to attend, visit the Center for the Arts website.