Pepperdine Theatre to Present Luciana and Daniel Forge Fall Musical Curtains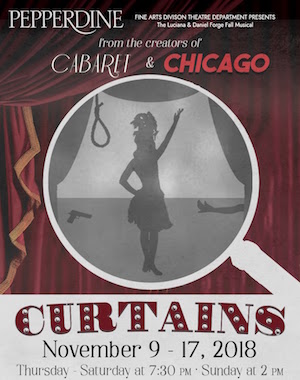 The Pepperdine University Fine Arts Division Theatre and Music departments will present the musical Curtains at Smothers Theatre in Malibu on November 9 and 10 and November 15 to 17, at 7:30 PM, with a matinee performance on Sunday, November 11, at 2 PM.
Set in Boston's Colonial Theatre in 1959, Curtains tells the story of an actress who mysteriously dies on stage during her play's opening night, leaving the entire cast and crew as suspects. A local detective, who happens to be a musical theatre fan, enters the scene to solve the crime.
The play is the final musical from American musical theatre composing giants Kander and Ebb, who created such works as Cabaret, Chicago, and Kiss of the Spider Woman. The original Broadway production garnered eight nominations at the 2007 Tony Awards, including Best Musical.
Adjunct professor of theatre dance Kelly Todd will direct the all-student cast, which will feature Noah Archibald, CJ Babcock, Alden Bettencourt, Morris Chen, Syd DeMaria, Julian Duncan, Presley Duyck, Christine Galyean, Brandon Gille, Joe Hebel, Brit Hope, Lauren Jennerjohn, Parker Johnson, Alexander Kolm, Haley Latorre, Clayton Mattingly, Audrey McKee, Brooke Moltrum, Michael Mossucco, Katy Semple, Sydney Sweringin, Nate Thompson, and Indy Wilson.
"Curtains is a highly entertaining musical comedy and also a fast-paced murder mystery. It is a remarkable evening of theater and sure to entertain. However, more importantly, it is an homage to everything we love about working in theater written by two of our nation's treasures. Kander and Ebb have added decades of work the American songbook, from musicals to film to popular music; Curtains was their final collaboration before Fred Ebb passed away, a collaboration that spanned 40 years of American songwriting," Todd said.
Ticket prices range between $10 and $20, and are required for attendance. For additional information about the performances, and to purchase tickets, visit the Center for the Arts website.