Pepperdine Theatre Presents Tony Award-Winning Musical Crazy for You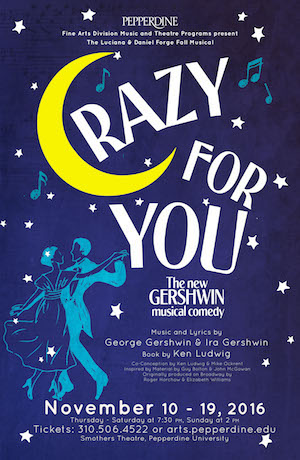 The Pepperdine University Fine Arts DivisionTheatre and Music departments present the Tony Award-winning musical Crazy For You, The New Gershwin Musical, by George and Ira Gershwin, with a book by Ken Ludwig, at Smothers Theatre in Malibu at 7:30 PM Thursdays through Saturdays from November 10 through November 19, with a matinee performance on Sunday, November 13, at 2 PM.
Crazy for You won three Tony Awards in 1992, including the award for Best Musical. It follows the story of Bobby Child, a would-be performer trapped in the life of a New York banker by his overbearing mother. On a business trip to Deadrock, Nevada, Bobby meets Polly Baker, who just happens to be saddled with a worn-out theatre in need of repair. While it sounds like love at first sight, things quickly take the first of many hilarious, complicated turns.
The show features a script by Ken Ludwig and a host of Gershwin hits including "Someone to Watch Over Me," "Embraceable You," "I've Got Rhythm," "They Can't Take That Away From Me," "But Not for Me," and many more.
Pepperdine professor of theatre Bradley Griffin will direct the all-student cast, which features Nate Bartoshuk, Alden Bettoncourt, Olive Biene, Chris Bozzini, Will Craig, Michael Doces, Julian Duncan, Mallory Erwin, Gabby Gonta, Fernando Grimaldo, Preston Hereford, Lauren Jennerjohn, Isabel Klein, Kate Klimist, Natalie Leonard, Annika Lile, Jalon Matthews, Gabi Meacham, Audrey McKee, Michael Mossucco, Sarah Roach, Brandon Ruiz, Evatt Salinger, Mathew San Jose, Katy Semple, and Angelo Silva.
Ticket prices range between $10 and $20 and are required for attendance. For additional information about the performance, and to purchase tickets, visit the Center for the Arts website.