Pepperdine Theatre Students Take Top Award at Edinburgh Festival Fringe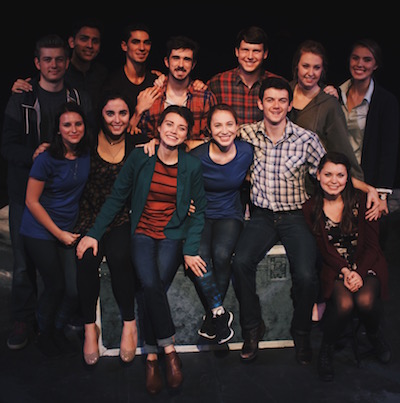 Pepperdine University theatre students part of the Pepperdine Scotland company received the prestigious Scotsman Fringe First award at the Edinburgh Festival Fringe, the world's largest arts festival headquartered in Edinburgh, Scotland, on Friday, August 12. It is the second time that Pepperdine Scotland, the award-winning cultural and artistic program comprising members of the Pepperdine theatre department and leading members of the Scottish theatre community, has won a Fringe First, an honor designed to recognize outstanding new theatre work and celebrate the very best new writing. The group also earned a series of coveted four- and five-star reviews for their performance.
Written by Scotland-based playwright Lynda Radley, The Interference is a fast-paced drama about a campus rape victim's struggle for justice. While the play is set in an American university, it is inspired by events both in the US and UK, and the questions it raises go far beyond the campus. Within days of its world premiere on August 3, 2016, it had earned acclaim from leading critics at prestigious publications, including The Scotsman, The Herald, British Theatre Guide, The List, and Broadway Baby.
Director Cathy Thomas-Grant, divisional dean of the Pepperdine Fine Arts Division, explains, "The Edinburgh Fringe is one of the toughest and most competitive environments you can imagine. To have won this award and earned such outstanding reviews is a tremendous tribute to the dedication of our students and to the outstanding power of Lynda's writing."
As part of the Pepperdine Scotland program, 18 of Pepperdine's best and brightest theatre students spent seven weeks in the Highlands, Glasgow, and Edinburgh. During their residency, students rehearsed, took classes, and worked alongside some of the leading individuals and institutions in Scottish theatre.
In the summer of 2012, the project culminated in the world premiere of Why Do You Stand There In The Rain?, which was awarded Pepperdine's first Fringe First award.
This year Pepperdine Scotland not only managed the project, but also worked with a variety of campaigning organizations, such as the Rape Crisis charities, to highlight issues surrounding sexual violence.
White Ribbon Scotland, an organization that aims to change social attitudes towards rape and other forms of violence against women, believes it is vital to discuss these issues. Davy Thompson, the organization's communications officer, says, "It's terrific to have such a high-quality and effective play which will help change attitudes and stop victim blaming. The Interference also looks at the legal hurdles victims face when they try to get justice and they just shouldn't be there. It's important to get these issues talked about and for men to make it absolutely clear that they think violence towards women is completely unacceptable."