Pepperdine Undergraduate Awarded Prestigious Social Action Fellowship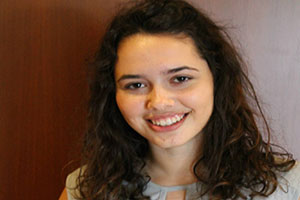 Pepperdine University student Natasha Frazier has been selected for the prestigious and competitive 2015 Humanity in Action Fellowship, offered by the non-profit, international education association. The Seaver College senior will spend May 28 to June 25 in Amsterdam, Berlin, Copenhagen, Paris, and Warsaw where she will study human rights, diversity and active citizenship. Frazier was one of 43 participants chosen from a pool of 688 applicants from more than 255 universities and colleges across the United States.
Frazier will join fellows from Bosnia and Herzegovina, Denmark, France, Germany, Greece, the Netherlands, Poland, and Ukraine in the intensive program, which brings together international groups of university students and recent graduates. The fellows will explore past and present examples of resistance to intolerance, with the goal of encouraging future leaders to be engaged citizens and responsible decision makers.
"What really appeals to me about the fellowship is its focus on issues within specific countries. Race relations and gender relations, for instance, are such broad concepts and how they actually play out in society varies drastically according to the intricacies of each country," Frazier says.
Frazier describes the fellowship as a valuable opportunity to grow as an activist. She plans to use the skills and knowledge gained from the fellowship experience to design and implement a project addressing a local community social issue.
At Pepperdine, Frazier is majoring in sociology and minoring in women's studies. She spent her sophomore year abroad studying in Buenos Aires, Argentina. On campus Natasha is an associate editor of Pepperdine's undergraduate research journal, Global Tides. This past year, she served as a junior class senator in the Student Government Association and as a member of Pepperdine's Social Action and Justice Colloquium. She enjoys exploring the racial politics of art and media and hopes to pursue graduate studies in gender studies or environmental policy.
Born in Anchorage, Alaska, Frazier grew up on the Cattaraugus Indian Reservation in upstate New York, in Salt Lake City, Utah and in South Dakota before settling in the Washington, D.C. area. A member of the Cheyenne River Sioux Tribe, Frazier is particularly interested in themes of neo-colonialism and cites multiple feminist theories as influential. She is a recipient of the Posse Scholarship, awarded by the Posse non-profit group that identifies, recruits and trains public high school students with academic and leadership potential to become leaders.
Frazier credits her Pepperdine professors, Sarah Stone-Watt, Brian Newman, and Jeff Banks, with providing her with knowledge that extends classroom learning to real life experience.
"They don't just lecture but they interact with our ideas as students, which has allowed me to develop intellectually and creatively," Frazier says.