Pepperdine University Announces Business School Name Change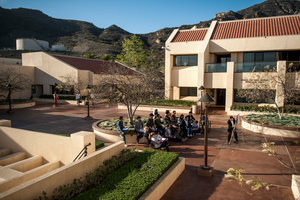 Effective March 19, 2018, the Pepperdine Graziadio School of Business and Management will henceforth be known as the Pepperdine Graziadio Business School, a shift that dean Deryck J. van Rensburg explains more accurately captures the school's efforts under one banner with a unified vision for the future. In an email shared with Graziadio faculty, staff, and students, Van Rensburg remarked that the change will not only enable the business school to maintain its strong Pepperdine association and special connection to the Graziadio name, but it will also enhance how the Graziadio brand is consistently referenced.
"As we approach our 50th anniversary, I've been reflecting on what an incredible honor it is for me to lead and serve our students, faculty, and alumni," said Dean Van Rensburg. "One of my goals when I first became dean was to advance our clarity of purpose and sense of mission. Today we are observing an important milestone in renaming our school Pepperdine Graziadio Business School. In doing so, we are also building on 50 years of values-based education, preparing students to be Best for the World Leaders in a smart machine age."
The renaming is one of the first steps outlined in Van Rensburg's vision for the business school in a document called ASPIRE 2025, a comprehensive strategic plan developed in anticipation of the 50th anniversary of the Graziadio School. ASPIRE 2025, which Van Rensburg says will allow the business school to "reach for new horizons and unleash its organic potential" into the next seven years and beyond, focuses on enhancing the student experience, elevating faculty as thought leaders, facilitating business partnerships, and establishing the Graziadio School as an employer of choice.
"As Pepperdine continues to set standards for progress and innovation, the renaming of the Graziadio School of Business and Management is an exciting part of the momentum that will propel the University into a new era," said Pepperdine president Andrew K. Benton. "The vision for the Pepperdine Graziadio Business School set forth by Dean Van Rensburg will honor the school's rich 50-year history and demonstrate a commitment to both academic excellence and the student experience."
The Pepperdine business school was founded in 1969 by faculty members who were committed to improving the practice of business. They were pioneers in addressing the education needs of working professionals and designed programs that emphasized the application of theory and experiential learning in small class settings to enhance the significant work experience of adult learners. In 1996 George L. Graziadio, Jr., a commercial real estate developer, entrepreneur, and banker, endowed the Graziadio School of Business and Management, propelling a decades-long vision to develop values-centered leaders and advance responsible business practice through education that is entrepreneurial in spirit, ethical in focus, and global in orientation.
Since the business school's founding, Pepperdine has developed full-service campuses in West Los Angeles, Encino, Irvine, Silicon Valley, Westlake Village, and Calabasas to make Pepperdine business programs accessible to working professionals.