Pepperdine University Begins Collaborative Investigations on the Intersection of Religion and Sociology at the Center for Faith and the Common Good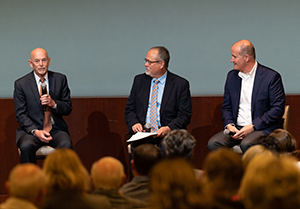 Pepperdine University is beginning several collaborative research projects through the University's Center for Faith and the Common Good, a research-focused, collaborative enterprise that encourages the scholarly investigation of faith structures that influence positive social action and improve outcomes of social and behavioral services. The center leverages Pepperdine's unique position as a top 50 university in the nation with an established faith-centered mission to conduct high-caliber interdisciplinary research.
"Our vision for the Center for Faith and the Common Good reflects the very heart and mission of Pepperdine—to see our Christian faith bring new life to a broken world through research, scholarship, and personal engagement," says Pepperdine president Jim Gash.
The establishment of the center was first announced at the President's Speaker Series on March 10, 2022, which featured Byron Johnson, Distinguished Professor of the Social Sciences and the director of the Institute for Studies of Religion at Baylor University. As a leading authority on the scientific study of religion, the efficacy of faith-based organizations, and criminal justice, Johnson shared insights from his prolific research examining how faith-based practices positively impact human flourishing, most notably in prisons. The center aims to integrate key components of Johnson's work while contributing to further studies and wider societal impact. Johnson and Gash, united in their shared interest in and passion for improving prison conditions and recidivism, serve as the center's executive directors.
"If ever there was a need for thoughtful, evidence-based research that draws on all the strengths of a topflight national university whose mission and focus remains faith-centered, now is that time," says Johnson. "Pepperdine is uniquely prepared to bring together strong leadership, top scholars, and the desire to affect public policy at local, state, and national levels. I am convinced Pepperdine is ready to play a prominent role in facing unprecedented societal challenges, and I look forward to being part of that effort."
In addition to Johnson's leadership of the Center for Faith and the Common Good, he joined the Pepperdine School of Public Policy as a Distinguished Visiting Professor of Religious Studies and the Common Good. Pepperdine vice provost Lee Kats leads the center as academic director and Cameron McCollum, director of the Caruso School of Law Sudreau Global Justice Institute, offers his expertise as the center's administrative director.
While overseeing the Office of Research and Sponsored Programs, Kats has identified faculty investigating faith-related questions and their intersection with the fields of psychology, social and behavioral services, and prison reform. He is eager for the center to build and reinforce these already established scholarly collaborations while also connecting Pepperdine faculty with new collaborators from universities across the nation. Some inaugural research partners include Grant Duwe from the Minnesota Department of Corrections, Michael Hallett from the Department of Criminology and Criminal Justice at the University of North Florida, and Andrew Johnson from the School of Law Enforcement and Criminal Justice at Metropolitan State University in St. Paul Minnesota.
"Over the last 10 years, research led by Pepperdine faculty and students has become increasingly higher profile and more direct at addressing major issues facing society today," says Kats. "The new Center for Faith and the Common Good will provide increased focus on how faith and religion might contribute to our understanding of improved outcomes for issues and challenges we face in our culture today."
To learn more about the center and its inaugural projects, visit the Center for Faith and the Common Good website.