Pepperdine University to Celebrate 33rd Annual Step Forward Day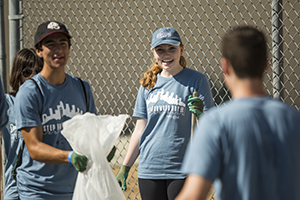 On Saturday, September 11, 2021, the Pepperdine University community will celebrate the 33rd annual Step Forward Day. The day connects students, faculty, staff, and alumni around the world to service opportunities within their communities. This year students on the Malibu campus will have the chance to get involved with 14 different community organizations, and alumni in seven states—Arizona, California, Colorado, Maryland, Nevada, North Carolina, and Texas—will serve in 17 different projects or organizations.
"After spending so much time apart, I am eager for students to find community and connection again through service opportunities and have the chance to maintain those connections throughout their undergraduate experience," shares Sharonne Niba ('21), who serves as an administrative assistant for the Hub for Spiritual Life, which is coordinating the student service.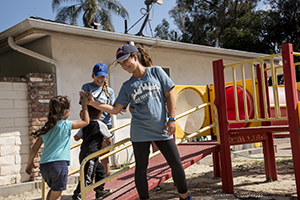 Niba recalls being involved in Step Forward Day since her first-year seminar. Each year, like many other students, she eagerly anticipated engaging in meaningful work alongside her fellow students and friends. Those connections she made in her first year have equipped her with leadership skills and a lifelong passion for service.
To protect partner organizations and Pepperdine community members from increased risk of COVID-19 exposure, most student service opportunities this year will happen on the Malibu campus. Students will have the chance to assemble activity kits, school supplies, and hygiene essentials for children in the Los Angeles Metropolitan Area, while also developing connections to find ways to regularly serve an organization of their choice.
Students interested in volunteering for the day should submit their interest to the Hub for Spiritual Life. Alumni interested in volunteering should explore regional chapter opportunities on the Alumni Step Forward Day website.