Pepperdine University to Celebrate Annual Founders Day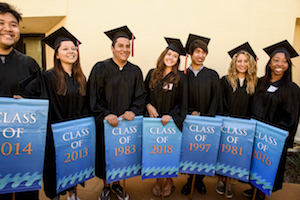 Pepperdine University alumni, board members, friends, faculty, and staff will gather together at Firestone Fieldhouse in Malibu on Wednesday, September 21, at 10 AM, to commemorate Founder's Day.
Each year this special event pays tribute to founder George Pepperdine and his vision for the University, affirms its mission, and declares the opening of the new academic year.
Founder's Day will begin with a processional featuring alumni representing every graduating class from Seaver College and George Pepperdine College since the University was founded 79 years ago in 1937. The convocation will be highlighted by a dedicatory message from president Andrew K. Benton.
Adrian Smith, owner of Western Auto Building in Kansas City, Missouri (the original site of George Pepperdine's initial business venture Western Auto Supply Company), will present the University pledge. The Pepperdine Symphony Orchestra and University Concert Choir will perform several musical selections, including the Pepperdine Alma Mater.
For those unable to attend, this event will be broadcast live via Livestream .