Pepperdine University Dance Company Returns to Smothers Theatre for Dance in Flight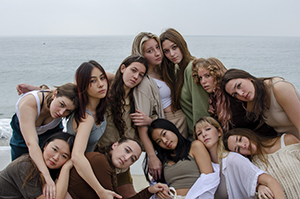 From February 10 through February 12, 2022, Pepperdine University's resident dance company will present this year's performance of Dance in Flight in Smothers Theatre on the Malibu campus. The performance, centering on the theme 'Normal,' is the first in-person performance after COVID-19 pushed the 2021 performance to a virtual format.
"We are most excited to be back in person and to perform again in Smothers Theatre," says Annabella Nordlund, Seaver College junior and assistant student director of Dance in Flight. "It has been a long time since we have been able to dance together, and we are so thankful to have an in-person show. There is something so magical about the connection of dancing on stage together with a live audience. We cannot wait for opening night."
Inspired by the displacement and isolation felt during the pandemic, Nordlund and fellow student director Becca Tuska wanted to explore what it means to be normal and if there is an objective sense of the word. What they found is a powerful collection of performances that highlights different lived experiences and how some may bend to conform or break free from the notion of normal. The company, composed of 32 dancers ranging from first-year students to seniors from a variety of academic divisions, has prepared for the in-person performance since September 2021.
For more than 20 years, Dance in Flight has become a tradition providing an environment for student dancers and choreographers to cultivate creativity, physical expression, and teamwork in a professional performance atmosphere. Through choreography, casting, rehearsals, and collaboration with lighting and costume designers, students develop valuable leadership skills and cultivate meaningful community.
To learn more about the upcoming performances and reserve tickets, visit the Lisa Smith Wengler Center for the Arts website.