Pepperdine University to Expand Student Wellness Programming in Fall 2022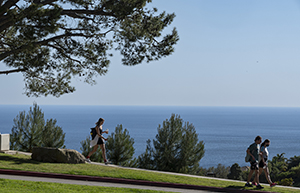 Pepperdine University Student Affairs will significantly expand wellness programming for students beginning in fall 2022. The initiative supports holistic student wellness with offerings that focus on spiritual, physical, and emotional health.
"I'm thrilled to be moving forward with the significant expansion of our wellness offerings," shares Connie Horton, vice president for Student Affairs. "This growth further demonstrates that Pepperdine truly cares for our students holistically. As student needs have grown, the services and programs are growing too."
The expanded services will include increased availability for telehealth and in-person medical and counseling appointments as well as a host of other programming such as resilience coaching, fitness and recreation offerings, and more. With the increase in availability for online programming, students regardless of location will have more access to wellness offerings.
Most individual charges, including Student Health Center appointments, Counseling Center psychiatry appointments, fitness classes, and intramural league participation, will be eliminated and replaced with a one-time wellness fee. A new one-time student wellness fee will be applied to full-time and half-time student accounts each semester.
To learn more about the expanded wellness offerings, visit the Student Affairs Student Wellness website.