Pepperdine University Experts Reflect on the Impacts of Wildfire on Public Health, Local Ecology, and the Economy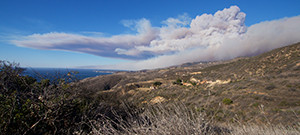 For decades, Pepperdine University faculty members have closely researched the impacts of wildfire. Now nearly three years after the historical Woolsey Fire, which spanned nearly 100,000 miles, and as California prepares for a warm summer and potential public safety power shutoffs, Pepperdine researchers reflect on the range of wildfire impacts beyond the local ecology to public health and the economy especially when coupled with the effects of the COVID-19 pandemic.
As Woolsey charred through Los Angeles and Ventura Counties, the Camp Fire tore through northern California spanning more than 150,000 acres and destroying the town of Paradise. California's 2018 fire season incurred hundreds of billions of economic costs for relief and recovery efforts and at nearly two million acres burned marked the largest wildfire season until California's 2020 wildfire season which burned more than double the acreage compared to the 2018 season.
"In Southern California, the chaparral shrubs are adapted to moderate seasonal drought and a specific fire regime," shares Helen Holmlund, assistant professor of biology at Pepperdine University's Seaver College. "However, with increased fire frequency, the native shrub seedlings cannot produce new seeds before the next fire, which is causing localized extinction of species that used to cover Pepperdine's Malibu campus. These shrubs are then replaced with invasive grasses that catch fire more easily, creating a positive feedback loop with even more fires."
Holmlund has studied under Professor Emeritus of Biology Steve Davis, whose work alongside student researchers has found critical changes in the landscape surrounding Pepperdine since the Woolsey Fire.
"Historically, urbanization has contributed to increased fire frequency, because most fires are started by human-related causes," Holmlund explains. "However, now changing climates are making fires worse because hot, dry conditions produce flammable vegetation and more days that fire can spread rapidly."
Native plants are also remarkably efficient in pulling particulates and compounds from the air and soil to use as nutrients for their own growth. With fewer plants surviving in the landscape, the land may lose its necessary balance for healthy soil and leave more particulates like carbon dioxide and nitrogen in the air.
"The primary emissions from wildfires are particulate matter and oxides of nitrogen," shares Jane Ganske, professor of chemistry at Seaver College. Ganske's research examines that this particulate matter can be suspended in the atmosphere and may react with other atmospheric constituents forming additional pollutants. "With links to asthma and possibly dementia, breathing such particle-laden air is likely to be detrimental to public health and may increase the risk of a COVID-19 respiratory infection."
While health impacts may not be evident for some years, the immediate impacts of wildfire seep into the economic climate of the community and the state as a whole.
"Evacuations, damages, and closures affect businesses large and small in the short term," shared Michael Shires, associate professor of public policy at Pepperdine University's School of Public Policy. "But, long term, add in the regulatory climate of California and the less reliable power grid during public safety power shutoffs, and businesses are forced to consider leaving the state to survive."
With more and more businesses venturing out of California, Shires explains that California could face an even wider gap between wealthy and low-income populations. As that gap widens, Chris Doran, professor of religion at Seaver College, considers who is impacted the most by wildfires and other climate disasters with limited resources to aid in their recovery.
"Pepperdine is in a unique position to be able to face this moment and put forward scholarship and support programs to help those impacted," shares Doran. "We have a moral and biblical calling to continually support our communities, especially as climate crises seem to increase nationally."
After the Woolsey Fire, the Pepperdine community made small efforts to help families recover with the Caruso School of Law Disaster Relief Clinic. The clinic was led, at the time, by Jeff Baker, clinical professor of law and assistant dean of clinical education and global programs at Caruso School of Law. Informed by his experience working with domestic abuse survivors, Baker made sure the clinic helped each client with a trauma-informed approach.
"Despite natural disasters being fairly quick events, the legal side is drawn out, costly, and confusing for those unfamiliar," shares Baker. "And unfortunately, with Woolsey and now COVID-19, we are seeing fewer people and businesses able to rebuild."
Doran also shared that with COVID-19 communities were able to see the benefits of coming together to solve pressing issues with collaboration and urgency. Such problem-solving, Doran hopes, should act as a motivator and encouragement as the various impacts of climate disasters are faced.
"Disasters expose all of our systemic issues and the cracks in the system," shares Baker. "These issues have always been there, but now we can really see just how much things might not work the best they could and begin working to better our communities."