Pepperdine University Hosts Eighth Annual Christmas Tree Lighting Ceremony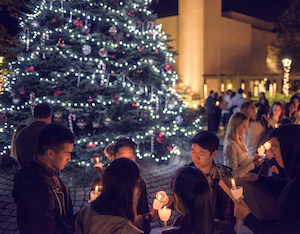 The Pepperdine community will gather for the eighth annual Christmas Tree Lighting ceremony at Mullin Town Square on the Malibu campus on Thursday, December 1, at 6 PM.
The festivities will begin at 4:30 PM with a Christmas dinner at Waves Café, and will be followed by a performance of holiday songs by the Pepperdine University Concert Choir and Orchestra at 7:30 PM.
For additional information about these holiday events, contact director of student activities and campus recreation Doug Hurley.