Pepperdine University Introduces New Fall 2021 Support Groups for Student-Veterans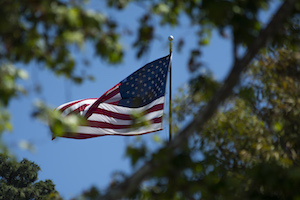 Beginning in the fall 2021 semester, Pepperdine University will offer two new support groups for student-veterans. The Student-Veteran Support Group (SVSG) will be available for all part-time and full-time students and the Military-Connected Women's Group will be available for the women of the Pepperdine Veterans (PeppVet) Council and their spouses.
"Over the past year, we have received a lot of feedback from student-veterans looking for new ways to connect and build belonging through improved peer-to-peer support and social networking opportunities during their Pepperdine journey. These support and social groups will help do just that by connecting veterans and military-connected students across our five Pepperdine schools," explains Eric Leshinsky, director of student veteran affairs at Pepperdine. "In the past, military-connected student interactions and activities would typically be limited to a single campus or school event. Developing new avenues for social and support activities led by their peers and other veterans is a primary objective of the PeppVet Council."
SVSG will offer weekly Zoom meetings for all part-time or full-time student-veterans attending any of Pepperdine's five schools at any campus or any online program. In response to the unique challenges student-veterans experience upon transitioning from military life to student life, SVSG provides a safe space designed specifically for them to connect with one another, learn about campus resources, and explore the strengths and skills they developed during their time in service that can benefit them while in school. Group meetings—which will be led by a counselor from the Pepperdine Counseling Center with assistance from a clinical psychology student at the Graduate School of Education and Psychology (GSEP)—will include discussions related to military service, the transition from the military, challenges associated with being a student, and a variety of other topics.
Specific dates, times, and details about how to join the SVSG Zoom meetings will be released in August 2021. Questions regarding the support group can be directed to student-veteran Patrick Resetar, vice president of the PeppVet Council representing GSEP.
The military-connected women's group will convene both virtually and in person, with the goal of fostering a sense of community and enabling PeppVet women and their spouses to connect and engage with fellow members. Cohosted by Seaver College student-veteran Christine Deeter and Graziadio Business School student-veteran Samantha Jones ('21), the military-connected women's group will help forge new relationships through community outreach, social events, and ongoing conversations about the unique experiences and commonalities that members share. The group will meet on a biweekly basis starting August 30, 2021. For questions about the military-connected women's group and to RSVP for the upcoming meeting, contact Christine Deeter by August 23, 2021.
For additional information about University programs and resources available to student- veterans, visit the Veterans at Pepperdine website.